By Colleen Dillon and Miriam Hirschstein
At first blush, teaching a distance learning course in infant and early childhood mental health (IECMH) seems like a paradox. Training in this relationship-based field is intensely inter- and intra-personal. What would it require to translate and enact both the content and the methods of the IECMH field online, and to create and sustain a truly connected learning environment?
Our chief goal was to reach new learners (students completing a B.A. in Early Childhood and Family Studies) by providing a vibrant, relevant, and accessible introduction to core concepts of the IECMH field. But a field is more than its concepts. We also wanted to convey its methods by calling out and modeling the "ways of being" that embody best practice with young children and caregivers.
We began by revisiting the cornerstones of relationship-based work, considering how best to:
Connect meaningfully with each student
Facilitate students' inter-connections, leveraging learning of the group
Bring the visceral power of babies and their relationships with caregivers into a virtual classroom
The easy parts
Some IECMH concepts and methods translate beautifully online:
Use of video: If a picture is worth a thousand words, video (especially of a baby and caregiver) is the IECMH lottery jackpot.
Multiple points of entry for learners: Because IECMH is intensely interpersonal and interdisciplinary, we are accustomed to building multiple channels for diverse audiences and modes of learning and communicating; for example via small group forums and activities.
The challenges
Creating a safe, engaging environment for students first exploring this content:
How do we enact connectedness with 50 or 60 individual students we never physically meet?
How do we ensure supportive, appropriate online communications?
Missing vital cues:
Non-verbal cues help us meet learner needs in real time.
How do we "take the temperature" of an online room, where everyone enters discussions at different times?
How do we provide sensitive, individualized support in a distance learning context?
Supporting and inciting reflective practice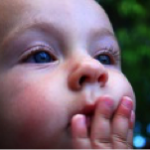 Learning blooms when there is room for reflective practice–a continuous process of attending to our inner experience in relation to our work with children and families. In IECMH training, guided training and practice increase student capacity to reflect on their own feelings and responses, as well as to "wonder" about those of a child and parent or teacher. This enables early learning professionals to bridge the gap between core IECMH concepts and real world practice.
We contemplated how to do this well, growing student reflective capacity in an introductory class taught online.
The logistics: Creating online learning communities
We randomly assigned students into subgroups for weekly online conversations and assignments. The size and names of groups were intended to create small, safe communities to support in-depth discussions. These "neighborhoods" posted weekly responses to prompts from lesson materials. "Blocks" within the neighborhoods were formed for infant observation forums.
We created video-based activities and voice-over presentations, reasoning that mixed media generates interest and access to concepts. Specifically, we developed a series of "Powtoon" videos (using cartoons, graphics, our voices, and visually arresting photographs) to introduce ourselves and each week's content areas.
We sparked exploration of the course website by including photos of infants and families, like the one to the right, that evoke visceral responses.
We asked each student to enter the virtual class by uploading a 2-3 minute introductory video, sharing:

Their name, geographic location, and work or professional role
A photo of themselves as a young child (birth– 3)
Three words to describe themselves as a baby/toddler
Having used a similar "ice breaker" in classrooms, we were struck by how modifying it for online use activity amplified its impact. Student videos exceeded our expectations as we leaned forward to see people in their "real world" home or workplace, appreciate snapshots held up to cameras, and catch the timbre of a voice. Video, in this activity, helped close the distance in unexpected and visceral ways.
Course content:  Bringing baby into the room
For 10 weeks students observed video segments of a real baby growing and relating in the context of her family. This online proxy for infant observation, a key IECMH training experience, served three purposes:
To give students the opportunity to witness typical development unfold in the context of primary relationships;
To engage students by harnessing their curiosity about this specific developing child ("What will Sarah do next?"); and
To grow reflective capacity by prompting students to inspect their personal responses to video content, and to "wonder" about the inner experiences of Sarah and her caregivers over their development and over time. Students submitted their observations and wonderings online each week in their neighborhood's infant observation forum.
Instructor feedback
We connected to students via weekly feedback to forums on Canvas Speed Grader. Providing consistent, thoughtful, and at times challenging, feedback to students' posts enabled us to engage in sidebar as well as group-level conversation. Because content in this field tends to stir up strong feelings, this flexibility was instrumental to both the group process and individual progress.
We provided one-on-one support to students as they reflected on early life experiences and work in the field. Occasionally, we stepped in to scaffold and help students reflect about sensitive peer communications. In addition, we summarized the weekly "neighborhood" and "block" posts, pulling out common threads or areas of confusion to post collectively to the small groups. On the technical end, Canvas made multi-level responding and individualizing easy.
Concluding reflections
Some core IECMH methods lent themselves swimmingly to online instruction, for example the use of multi-phase video exercises, second-by-second observations, and deep reflection in small groups.
We observed a "leveling of the playing field" in online discussions as students found and used their voices in weekly forums over the quarter. Roles shifted, and we believe more introverted students benefitted from time and space to craft responses to peers and course content. We speculate that distance learning provided a different classroom experience and modalities for diverse ways of learning and being, in contrast to in-room instruction.
Some things continued to bewilder and bedevil us:
What are unintended effects of relating and connecting at a distance, especially in our field, and how might this play out in parallel worlds of children-with-caregivers, and learners-with-instructors?
What is the impact of the current zeitgeist, in which relation and connection via social media and digital channels is the norm rather than the exception?
What are the long-term implications for online learning, teaching, being, and relating?
Not the only Luddites on campus, we discovered during the development of this course that many faculty wrestle with issues of how best to engage in connected teaching and learning relationships with students, be it online, in campus classrooms, or in some hybrid mix of the two. This can be, quite simply, humanly challenging in any context. We continue to adapt and experiment with how best to convey the content and syntax of our field to both close distance and increase connectedness in learning.
---