By Reed Garber-Pearson and Polly Myers
The online learning environment can feel all too calculated, given it's growing dependency on learning management software like Canvas. Module learning predetermines a rigid workflow, leaving little room for learning in exploration and choice. In an effort to heed scholars Heidi Skurat Harris and Michael Greer's call for giving online writing students "choice in both space and time…" (p.52), we recently added a new assignment to our online advanced social science research and writing course. Creating opportunities for students to choose how and when to connect with instructors and engage with course content will "allow students to both take ownership of their learning and feel less like passive recipients in the online course" (p. 52). In addition, by promoting access to campus-wide resources outside of Canvas (the LMS) the technology becomes, "not the container of the course experience but rather as the hub of course experience" (p.52).
As well as promoting ownership over course content, we hoped our new assignment, Consult a Subject Librarian, would create a means for students to narrow their focus earlier in the research process — thereby saving some of the stress that inevitably comes with writing a research paper in one quarter. The assignment involves students identifying a librarian with expertise in their field of interest, scheduling an appointment with that librarian, and writing a short reflection on what they learned along with a plan for their next steps.
The impetus for the assignment was a desire to:
Connect students to campus services they might not otherwise experience
Provide guidance on the research process
Create a more personalized system of research support for students
Subject librarian consultations
Encouraging students, particularly those online, to connect with librarians is a great way for students to get a personalized learning experience. Generally, a librarian consultation will consist of a series of open-ended questions — a chance for students to reflect and get feedback on their own process and goals. The librarian acts as a sounding board, helping to frame the conversation and illustrating that research is not just about "finding things;" rather, it's a nonlinear process of constructing questions and evidence-based answers. Research consultations, particularly for undergraduate students, often involve narrowing the focus of inquiry and identifying context to overall research interests. This assignment helps facilitate critical thinking by modeling the iterative process of asking questions and then finding gaps in the information that already exists.
We found it useful to emphasize that students should:
Review the University Libraries Research Guides to facilitate the selection of an appropriate librarian
Identify more than one librarian who fits the areas they are interested in (this course is for an interdisciplinary social sciences program)
Give both themselves and the librarian ample time to schedule the appointment
While we gave students a list of suggested questions to ask the librarian, we recommend having the format be more open, so as to provide a more personalized learning experience that is negotiated between librarian and student.
Outcomes
The results of the assignment have been positive. Some students reported having never realized there were subject librarians. Others noted that they felt less overwhelmed and reported a path forward that seemed markedly more manageable. One student reported talking with the librarian on the phone for 40 minutes, and another reported that they set up a series of follow-up chats. All displayed an increased ability to take ownership over the research and writing process by asking increasingly complex questions. As a result of this assignment, student bibliographies were more focused, topics more manageable.
Conclusion
Opening up opportunities for students to connect with faculty combats the isolation that many online students report experiencing. It also empowers both the student and the learning process.  As Harris and Greer point out, "To teach writing online is to design an environment" (p. 46). Overall, the benefit of this assignment is in shaping an environment where collaboration and student learning are at the center. Connecting students with librarians underscores how collaborative learning can yield powerful results.
Want to learn more about how you can collaborate with the Libraries?
Contact your subject librarian and check out the UW Libraries' Instructor Toolkit.
Works Cited
Harris, Heidi, and Michael Greer. "Over, Under, or Through: Design Strategies to Supplement the LMS and Enhance Interaction in Online Writing Courses." Communication Design Quarterly Review 4.4 (2017): 46-54. Web.
---
Authors
Reed Garber-Pearson is the Integrated Social Sciences Librarian at the University of Washington. They work with the Libraries Instructional Design Team, serving faculty in creating more effective online research assignments.
---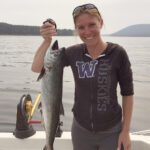 Polly Myers is faculty in the Integrated Social Sciences program and the History Department at the University of Washington. She received her PhD in History from the University of Minnesota in 2008.