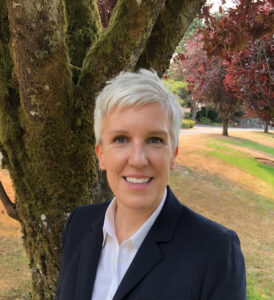 Penelope Adams Moon will become the director of the Center for Teaching and Learning, beginning Sept. 1. Moon succeeds Beth Kalikoff who is retiring.
Moon currently serves as director of Digital Learning and Engagement at UW Bothell and is affiliate faculty with the School of Interdisciplinary Arts and Sciences at UW Bothell. Her academic background includes a bachelor of fine arts degree in studio art from Saint Mary's College (Notre Dame, IN), a master's degree in art history from Vanderbilt University, and a Ph.D. in history from Arizona State University.
Prior to joining the UW in 2019, Moon served as associate professor of history and department chair at Bethel College in Kansas and as associate clinical professor of history and director of online programs at the School of Historical, Philosophical and Religious Studies at Arizona State University in Tempe, AZ.
Moon has extensive instructional experience in a variety of modalities.  Throughout her career, she has led transdisciplinary collaborative efforts focused on helping faculty grow sustainable, learner-centered, evidence-based teaching practices across modalities. Her scholarship and publication record includes work focused on American peacemaking and on engaging learners in digital environments.
As director of the CTL, Moon will report to Phil Reid, vice provost for Academic and Student Affairs. She will be responsible for working with CTL staff and instructors across the UW in the development and delivery of programs and content in support of teaching and learning. These programs include the Faculty Fellows Program which orients new faculty to the University campus instructional community and Technology Teaching Fellows which supports instructors in course redesign to promote hybrid and flipped models of instruction. In addition, Moon will continue the CTL's work on inclusive teaching through Theater for Change and other programs.
"I would like to thank the search committee, chaired by Marisa Nickle, senior director for strategy and academic initiatives in Academic and Student Affairs, for their work," Reid said. "I also would like to thank Beth for her many years of service to the CTL and Associate Director Katie Malcom for serving as interim director until Pen begins Sept. 1."