June 20 – August 5, 2022: Online
The Technology Teaching Fellows Institute (TTFI) offers participants the chance to learn with other faculty members, CTL colleagues, and learning technologists.
Fellows propose, design, and develop a significant digital learning project related to a course that will be taught in the coming academic year (AY 2022-23). For example, participants might:
Redesign an existing online course
Develop a new online/hybrid course or an online version of an in-person course
Develop interactive digital components for a hybrid or in-person course
Throughout the program, fellows will:  
Explore evidence-based and inclusive practices

Identify learner-centered strategies for teaching in online and hybrid environments

Practice using UW-supported technologies to advance student engagement

Develop and get feedback from other fellows on a new/redesigned digital course or course components
2022 Institute timeline
March 18: Applications due

June 20 – August 5: Institute

Autumn 2022 – Autumn 2023: Fellows teach their new hybrid or online courses
Expectations
Fellows will participate in all aspects of the Institute, including but not limited to:
Teaching Online 101

, to reinforce basic online and hybrid course design and teaching skills

Three topical synchronous sessions, one of which takes place at your convenience. The others are 

3:00-4:30 PM on Wednesday, June 22 and 

3:00-4:00 PM on Friday, August 5.

Individual work on their proposed project
Compensation
Fellows receive $1000 upon completion of all institute requirements. Two-person teams will receive $500 apiece.
Eligibility
Applicants must have an active UW faculty appointment at the time of their application and participation.
Former TTFI participants may apply as part of a two-person team. The second faculty member must be new to TTFI.
Application procedure
All UW faculty members, regardless of technical ability, are invited to apply, either as individuals or as a two-person faculty team. We are especially interested in course transformations that will have broad impacts for undergraduate students.
How to apply:
Complete and submit the 2022 TTFI Application Form before March 18. The form asks for information on your targeted course and current teaching practices. You have the option of including a letter of support from your department chair describing the value of your proposed project in relation to student learning goals and outcomes, department curriculum, and faculty development.
Who participates in TTFI?
Since the institute began, 220 UW faculty from 89 departments have participated. Over 170 courses have been redesigned, and 19,000+ students have taken TTFI redesigned classes.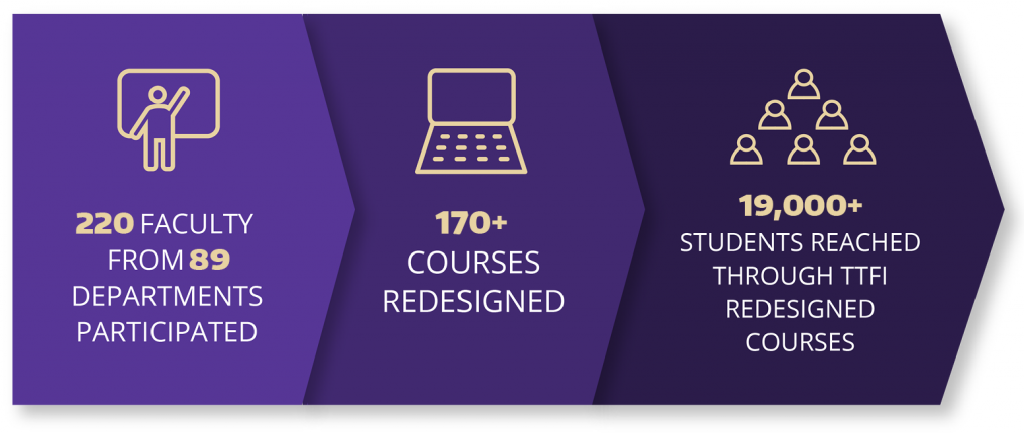 Questions about TTFI?