Center for Teaching and Learning
Advances in Higher Education Research Seminar
This seminar series highlights original research in college-level learning and instruction. Multidisciplinary in scope, each seminar addresses the broad themes of our work as instructors, including the cognitive processes by which students learn, and the classroom context in which they do so.
All seminars are free and open to the public. Presentations will be followed by a Q&A session and opportunities for discussion.
Winter quarter seminar
Supporting Higher-Order Thinking: Leveraging Learning Outcomes and Alternative Grading Approaches to Help Students Dig Deeper
Tuesday, February 9 (2:30-3:20 p.m.) Online via Zoom
Are you curious about holistic course redesign, making your course accessible to all, and alternative grading approaches? Join us for this discussion with St. Edward's University Professor Santiago Toledo.
Dr. Toledo will discuss his use of Marzano's Taxonomy for drafting content-based student learning outcomes. This taxonomy provides students with a structure for their learning process and allows them to access course content expectations more transparently. After discussing ways to implement Marzano's Taxonomy, Dr. Toledo will review an alternative grading scheme that leverages content-based learning outcomes and provides targeted and actionable feedback to both students and instructors. This approach makes use of Mastery Based and Specifications Based Grading.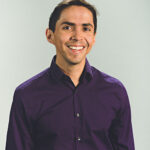 Dr. Toledo has been at St. Edward's University since 2015. He is a bioinorganic chemist by training and additionally loves to explore questions about how people learn. He maintains an active research group with undergraduate students where they explore how metalloenzymes catalyze incredible molecular transformations.
Dr. Toledo's teaching and learning scholarship explores the development of cognitively scaffolded learning objectives and alternative forms of grading to leverage the benefits of mastery learning. He teaches Inorganic Chemistry I and laboratory, Inorganic Chemistry II and laboratory, Introduction to Research, and Chemistry Independent Study. His favorite course is general chemistry since he enjoys helping students take the first steps in seeing the beauty of the chemical world.
---
Questions about the series?
Email aher@uw.edu