Center for Teaching and Learning
CTL Graduate School courses
The Center for Teaching and Learning offers a series of courses for graduate students interested in developing and strengthening their teaching skills. These highly-rated courses focus on evidence-based teaching practices that apply across disciplines and prepare students for success in the job market. Please see below for a list of courses offered during the year.
---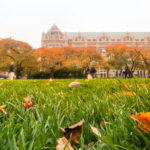 Autumn quarter 2020
GRDSCH 501 Teaching Assistant Preparation (1 credit)
GRDSCH 501: TA Preparation is an online course — participate in the TA Program and online during autumn quarter. Students must register and participate in the TA Program (Sept. 16-17, 2020) in order to complete this course.
This course will provide students with post-program support and opportunities to connect with other new TAs, learn more about campus resources, and explore specific strategies that support them in their roles as TAs.
Lead Instructor: Wei Zuo
---
Winter quarter 2021
GRDSCH 525 Acting Up: Teaching Theater for Change (3 credits, max. 6)
Builds skills in social change interactive theater to challenge institutional oppression, advance community dialogue, and promote inclusive educational environments. Emphasizes political education; storytelling; collaborative playwriting; rehearsal of plays and interventions; discussion; and self-reflection. Culminates in student-organized, public interactive theater performance and dialogue workshops. No previous acting experience required. Credit/no-credit only. View course details in MyPlan: GRDSCH 525
Instructor: Tikka O. Sears
---
Spring quarter 2021
GRDSCH 515 Teaching & Learning in Higher Education: Frameworks & Practices (2 credits)
Designed for graduate students seeking to build knowledge and skills in effective teaching practices as a teaching assistant or independent instructor. Students will be introduced to fundamental pedagogical frameworks and practices applicable across the disciplines in: Course design, assessment, active learning strategies, teaching inclusively, and using technology effectively in teaching. Credit/no-credit only.
Instructor: Wei Zuo
GRDSCH 550 Teaching in Global Classrooms: Strategies for Teaching International and Multilingual Students (1 credit)
Explores teaching and learning opportunities created by the increasing enrollment of international and multilingual students in U.S. universities. Focuses on evidence-based teaching practices that leverage the diverse linguistic and cultural assets of global classrooms to enrich learning for all students. (Credit/no-credit)
Instructor: Katie Malcolm
---
Washington State Employee Tuition Exemption Program
This state program covers about six credits per quarter for eligible staff and faculty. Visit the Professional & Organizational Development 
tuition exemption page
to learn more.