Center for Teaching and Learning
2015 Symposium program
"Using Reflection to Support Student Learning" April 14, 2015
Keynote Speakers:

Cynthia J. Atman
Professor Atman is the founding director of the Center for Engineering Learning & Teaching (CELT), a professor in Human Centered Design & Engineering, and the inaugural holder of the Mitchell T. & Lella Blanche Bowie Endowed Chair at the University of Washington. Dr. Atman is co-director with Dr. Jennifer Turns of the Consortium for Promoting Reflection in Engineering Education (CPREE), funded by a $4.4 million grant from the Leona M. and Harry B. Helmsley Charitable Trust. She was director of the NSF-funded Center for the Advancement of Engineering Education (CAEE), a national research center that was funded from 2003-2010. Dr. Atman is the author or co-author on over 115 archival publications. She has been invited to give many keynote addresses, including a Distinguished Lecture at the American Society of Engineering Education (ASEE) 2014 Annual Conference.
Dr. Atman joined the UW in 1998 after seven years on the faculty at the University of Pittsburgh. Her research focuses on engineering education pedagogy, engineering design learning, assessing the consideration of context in engineering design, and understanding undergraduate engineering student pathways. She is a fellow of the American Association for the Advancement of Science (AAAS) and the ASEE. She was the recipient of the 2002 ASEE Chester F. Carlson Award for Innovation in Engineering Education and the 2009 UW David B. Thorud Leadership Award. Dr. Atman holds a Ph.D. in Engineering and Public Policy from Carnegie Mellon University.
Betsy Cooper
Professor Cooper, currently serves as divisional dean of arts in the College of Arts & Sciences, and directed the Dance Program from 2001-2013. Prior to university teaching, she performed with classical and contemporary companies nationally and abroad, including Nationaltheater Mannheim, Matthew Nash Music & Dance, Makarova & Company and Connecticut Ballet. Cooper is an artist/scholar who remains active as a performer, choreographer and dance educator in the Seattle.  Her research probes at the intersections of dance, politics, and censorship of the body in mid 20th century concert dance and the Hollywood film industry. She has published articles on the Federal Dance Project in Theatre Research International, Dance Research Journal and The International Dictionary of Modern Dance. Her recent work, "The Body Censored: Dance, Morality and the Production Code during the Golden Age of the Film Musical," appears in Dance on Its Own Terms: Histories and Methodologies. Eds., Melanie Bales and Karen Elliot (Oxford University Press). Cooper is on the editorial review board of the Journal for Dance Education, where she has contributed articles on engaged learning and writing practices. She holds an M.F.A. in Dance from the University of Washington and a B.A. in Archeological Studies from Yale University. Cooper is a recipient of a 2004 Distinguished Teaching Award from the University of Washington.
Speaker publications on reflection:
Turns, J. A., Sattler, B., Yasuhara, K., Borgford-Parnell, J. L., Atman, C. J., & 121st ASEE Annual Conference and Exposition: 360 Degrees of Engineering Education. (January 01, 2014). Integrating Reflection into Engineering Education. ASEE Annual Conference and Exposition, Conference Proceedings.
Cooper, B. (January 01, 2013). Reflective Writing/Reflective Practice: Promoting Engaged Learning and Student Confidence in the Beginning Ballet Class. Journal of Dance Education, 13, 1, 4-11.
---
Posters and abstracts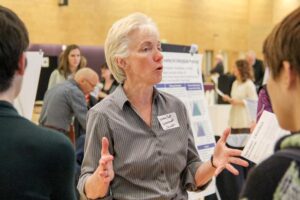 Poster #1: Literacy as Social Action: K-20 Multimodal Partnerships and the Common Core
Elizabeth Simmons-O'Neill, English, UW Seattle
Lilly Campbell, English, UW Seattle
Jennifer Etter, Shoreline Public Schools
Cornelia (Annie) Kirking, College of Education, UW Seattle Aly Lenon, Shorecrest High School, Shoreline Public Schools
Vangie Peaselee, Franklin High School, Seattle Public Schools
Candice Rai, English, UW Seattle
Nancy Smith, Olympic Hills Elementary School, Seattle Public Schools
Alexandra Zepeda, College of Education, UW Seattle
Poster #1 abstract
With support from a private donor, an inter-disciplinary group of K-20 students and teachers with shared investments in literacy education and social action set out to facilitate the kinds of conversations we rarely get to have, and to learn how multi-modal pedagogies might engage authentic interests of K-12 students in the context of the Common Core State Standards. Teams of K-12 teachers and UW students and faculty designed curriculum around the theme literacy as social action for predominantly low-income and multilingual public school classrooms, and provided volunteer and material support for those classrooms. UW faculty and students provided volunteer and material support for those classrooms, and UW's Carlson Center facilitated volunteer placements. At the culminating "Kollar Symposium," seventy-five K-12 students shared "Literacy as Social Action" projects on the UW campus. K-12 students toured campus with UW's First Year Programs, and engaged in specially-designed activities at the Burke Museum.
We conducted semi-structured interviews with students in one high school and one elementary classroom. Analysis is in progress, but we have already identified strong themes across age groups. Students demonstrated strong affinities with the social action dimensions of their projects. This connection to real issues and communicative purposes motivated students to persevere through the challenging literacy demands. Also prevalent in the data were students' powerful experiences as presenters and participants at the Kollar symposium. During this culminating experience, students came to profound understandings about multimodal composition, social action, and their own developing identities as writers and agents of change. The impact on both teachers and students continues this academic year through ongoing service-learning placements, new collaborative projects, and increased leadership and academic engagement by K-12 and UW students who participated.
We deepened existing partnerships and created new ones, demonstrating that standards can be generative of soul-deep capacity-building work, that this potential thrives with projects based on students' interests and with authentic audiences, and that collaborative small-scale K-20 "bottom up" partnerships enrich all levels, creating synergy and creative community as we strive to be open-minded people committed to learning for our whole lives.
Poster #2: Developing Social Metacognition To Improve Collaborative STEM Learning
Derya B. Sunkel, College of Education – Educational Psychology, UW Seattle
Poster #2 abstract
This is a dissertation study that examines the possibility of fostering students' awareness and development of social metacognitive learning skills to enhance their individual and collaborative learning in STEAM fields. The research was conducted at the Technology Access Foundation (TAF) Techstart Program that provides year-long STEM enrichment to underserved children of color in Grades 1-8, using a project-based learning model with advanced technology tools. Within an existing after-school program of the Techstart, twenty-three students in grades 3-5 participated in the study during 2011-2012. A systematic model, "Metacognitive Coaching Model (MCM)" was designed to guide each stage of the project and support assessment of student performance. Throughout the model students were encouraged to take charge of their own learning actions and interactions, offering different perspectives to challenge and engage them as they applied the model to the activities. Students' learning actions were observed before, during, and after the process and the data recorded textually. Comparative qualitative and quantitative analyses were made. The results show that it is possible for students to acquire more comprehensive social metacognitive learning skills when provided opportunities to acknowledge and act on their individual and collaborative learning responsibilities.
By connecting meta-emotional regulation components with metacognitive strategies, the overall application of the model not only offers a deeper awareness of students learning processes, but also closes a gap by addressing how to think, act and learn together, why it is important, and what each student's role in this. These aspects are crucially important for students of K-20 to cultivate in order to be a better learner, team participant, as well as a citizen. Thus it is expected to be highly applicable in the college classrooms as well
This work will ultimately affect educational interventions by developing knowledge of the influence of students' existing understanding of their learning processes and how teachers might be able to leverage students' understanding of these processes to improve their social learning experiences both in informal and formal learning environments. The project evaluated how such a purposefully designed environment, using the MCM (Metacognitive Coaching Model), engages students to foster their learning through different perspectives.
Poster #3: Can Creating Ecosystems Teach Earth's Biosphere Properties?
Frieda Taub, Aquatic & Fishery Sciences, UW Seattle
Christina H. Tran, Aquatic & Fishery Sciences, UW Seattle
Anna K. McLaskey, Oceanography, UW Seattle
Poster #3 abstract
Can non- or pre-STEM students gain an appreciation for the Earth's biosphere and human impacts upon it by constructing and observing their own (bottle) ecosystems? The experiential project would require four laboratory sessions, or in non-laboratory courses, a special project undertaken by a cohort of students and the results presented to the class. Half of the experiment would be instructor defined (the controls) and the student team would select the stressor (pesticide, nutrient enrichment, temperature, light-dark cycles, etc.) for the other half of the experiment. Observations are made weekly and require no instrumentation. To date, these projects have been performed by individual students or small teams earning Fish 499 (Independent Studies) credits. Assessments in the past have focused on the preparation of the Research Report and possibly Undergraduate Research Symposium presentations. In the future, pre- and post-"Diagnostic Question Clusters" (http://www.biodqc.org/) should be used to evaluate the students understanding of ecosystem processes. We would like to extend the projects to students earlier in their academic development and to those with minimal scientific background. We are looking for instructors willing to try the project and evaluate its impact on the student's understanding of Earth's regulation of Carbon Dioxide and Oxygen cycles (Photosynthesis and Respiration) and human impacts on these processes. This could contribute to a more informed electorate among college graduates, many of whom did not understand the role of air (CO2) in the growth of wood: See Minds of Our Own—Lessons in Thin Air. (http://www.learner.org/vod/vod_window.html?pid=77)
Poster #4: Tackling Time to Degree-Completion with a Dissertation Retreat
Jennifer Halpin, Odegaard Writing & Research Center, UW Seattle
Caitlin Palo, English, UW Seattle
Lilly Campbell, English, UW Seattle
Benjamin Hole, Philosophy, UW Seattle
Sarah Chodakewitz, School of Public Health, UW Seattle
Poster #4 abstract
In "Some of the Challenges to Writing Centers Posed by Graduate Students," Farrell argues that we need to do more to address what makes graduate writers distinct: "motivation for writing, background in writing, and attitude toward writing" (1994). Despite differences, graduate students are often still novice writers, struggling to decode the obscure genres of academia and carrying unfounded assumptions that "writing up" their research should be a transparent process (Kamler & Thomson 2006). The dissertation is often complicated by extraneous factors like advisor relationships – little support from faculty mentors regarding writing expectations (Kamler & Thomson 2004; Gardner 2007) – financial instability, and feelings of inadequacy. Graduate students who are first generation, speak English as a second language, or come from traditionally under-represented backgrounds may find even greater challenges (Abasi & Graves 2006; Pecorari 2006). Despite known difficulties, dissertation writing remains under-explored in the scholarship of teaching and learning. Meanwhile, completion of the dissertation remains one of the most demanding and often discouraging experiences for Ph.D. candidates at UW Seattle and elsewhere. This research aims to investigate our writing center's pilot intervention to improve the dissertation writing experience for at-risk Ph.D. candidates: a week-long dissertation retreat involving fifteen writers from across the disciplines. We will briefly overview retreat development (recruitment, funding, tutor-training). Then we will share findings from a qualitative study on the retreat, involving surveys and interviews with participants and tutors. Overall, participants described improved understanding of how their project was positioned in relation to their fields, identified concrete goals for time management and work/life balance, and recognized the value of peer collaboration. These findings indicate that educators need to think beyond merely providing guidance with academic genres. Instead, we should think more about how we can facilitate a contextualized and well-supported approach to the dissertation project as a whole.
Poster #5: Development to Lumopathies: Hands-on Techniques for Student Engagement and Exploration
Bob Kao, Seattle Children's Research Institute / Division of Nephrology, UW Seattle
Poster #5 abstract
Engaging students to explore and discover how principles of branched organ and circulatory systems is vital for developing strategies to repair damaged hole-in-heart and kidney diseases. How do we engage students and the public to learn these important developmental and repair processes? As a step towards engaging both students and the public, I sought to develop hands-on activities to enable them to explore how evolutionarily-conserved molecular and cellular processes could be applied to repair lumen pathologies, or lumopathies.
Through NIH/SEPA sponsored translational medicine cohort at the Pacific Science Center, I developed several hands-on activities from recyclable materials that address two questions: (1) what are the locations of lumen obstructions? (2) how can evolutionarily-conserved molecular and cellular processes be harnessed for luminal obstructions in the heart and kidneys? Recyclable materials included cardboard boxes, used coffee cups and tea bags, straws, rubber bands and balloons, and construction paper. I then assembled different combinations of these items into two hands-on activities: Finding the Defect; and Strategies for Repair. By receiving multiple positive post-activity feedback and comments on engagement impact, I learned that (1) traffic jams was a useful metaphor for hole-in-heart and hydronephrosis, and (2) activities designed around a sequential logic of questions enables students and the public to explore how scientists proceed in scientific research.
These model building activities may be applied in advanced undergraduate anatomy and physiology classes and labs as a learning and research tool. By clarifying a complex process over space and time through model building, an integrated molecular and cellular tapestry emerges for developing mechanistic insights into a repair processes. Furthermore, it will be important to determine whether cognitive psychology learning strategies may be combined with hands-on model building activities as a learning tool for students to navigate and integrate diverse aspects of organ development and physiology.
Poster #6: Training Biomedical Postdocs in State-of-the-art Teaching Strategies
Rebecca Price, Interdisciplinary Arts & Sciences, UW Bothell
Poster #6 abstract
The Science Teaching Experience for Postdocs (STEP) program at the University of Washington provides teaching experiences for biomedical postdocs with 100% research appointments. The program's mission is to mentor a diverse pool of postdoctoral fellows who are dedicated to teaching scientifically with inclusive, demonstrably effective, student-centered pedagogies. Postdocs attend three short training sessions that introduce state-of-the-art teaching strategies that are effective for students and time-saving for instructors. After the training, they work in teams of three to co-teach a seminar, with each postdocs leading only three class meetings. A mentor observes each class meeting and then discusses the strengths and weakness of each meeting with the team. In this pilot study, I asked whether leading three class sessions was sufficient to improve the way postdocs taught their seminars. The context for the study is the seminar courses that STEP apprentices teach at UW Bothell and at UW Seattle, which include both non-majors and majors classes. Each class meeting lasts two hours. The methods were to score the observations that the mentors wrote about each class meeting for (1) the array of cognitive challenges used in each class meeting, (2) the amount of student engagement in the best three activities, and (3) the alignment between the learning goals for a class meeting and the activities completed in class and for homework. The initial analysis of eight apprentices in four courses reveals that, as the postdocs gain more experience, they teach with more sophistication in all three of these areas, although more data are necessary to determine whether these shifts are statistically significant. This pilot study suggests that STEP is an effective way to introduce best pedagogical practices to a group of researchers who are largely unfamiliar with active learning.
Poster #7: Photo-elicitation Celebrates Postdoctoral Success in Hit the Ground Running
Rebecca Price, Interdisciplinary Arts & Sciences, UW Bothell
Sharona Gordon, Physiology & Biophysics, UW Seattle
Ira Kantrowitz-Gordon, School of Nursing, UW Seattle
Poster #7 abstract
Hit the Ground Running is a monthly program for Physiology and Biophysics postdocs in the UW School of Medicine that teaches skills necessary to succeed in a career within and beyond the academy. One essential skill is the ability to celebrate small achievements that propel a scholar towards success. To guide postdocs toward this kind of self-affirmation, we prompted them to upload a photograph representing an aspect of their professional life that they found rewarding, and then briefly describe its significance. We analyzed their photos and statements to answer the question "What kind of successes do postdoctoral fellows in Hit the Ground Running represent through photo-elicitation?" 17 of the 31 postdocs enrolled in the program submitted 20 artifacts. Only two entries addressed personal successes; the rest were professional. Of the professional successes, all but two illustrated progress along a research trajectory. These two exceptions were about receiving an award and spending time with a mentor. Three more professional successes were achievements that could be listed on a CV: receiving a conditional acceptance on a manuscript, presenting a poster, and having a cover image for a journal issue. The remaining 13 professional successes celebrated smaller steps toward a larger goal, such as learning new methods, collecting data, or working on a manuscript. We conclude that, for those who participated, photo-elicitation can be an effective strategy for celebrating small steps toward progress. However, roughly half of the postdocs did not submit a photo. The lack of participation may be due to the perception that only significant success—something that could be added to a CV— qualified as a submission, but that small steps that advance participants on the trajectory toward their goals did not. Helping more postdocs acknowledge these small successes may provide much needed encouragement and support.
Poster #8: Role of Philosophical Inquiry in Teacher Education
Debi Talukdar, College of Education / UW Center for Philosophy for Children, UW Seattle
Poster #8 abstract
Teachers are primarily framed as doers today, in a top-down answer-centered system. However, this discounts the power and agency teachers have as critical thinkers and change agents. Foundational questions such as "What is the purpose of education?" challenge teachers to think about their practice and relate them to broader societal issues. Teaching has been reduced to a technical skill, when it should be aimed towards helping an individual make sense of themselves, others, and the world. By deconstructing and reflecting on the broader landscape that teachers are part of, they are able to better serve their students' diverse needs by being more mindful of their personal philosophies on teaching and education. Philosophical inquiry, can facilitate this process.
This qualitative study takes place at an elementary school where participants are employed as teachers. A typical session consists of us presenting a piece of literature, that is philosophically provoking and based around a theme, for example, diversity, inclusiveness, power, responsibility etc. After a collective vote, we spend 40 minutes delving deep into the philosophical question that was chosen for discussion and make meaning for ourselves and try to tie that into how this affects our teaching philosophies and practice. It is empowering to make meaning of your own positionality within a system.
Philosophical inquiry is one tool that can push for this shift by including it in professional development for teachers. It is a versatile tool that can be used with anyone. Graduate student seminars and classes can incorporate it to tease out philosophical debates within the courses they are covering. Instructors may bring in content that is thought provoking and spark dialogue on social justice issues or the philosophy of science, for example. Among themselves, instructors can create a professional learning community to deconstruct issues that come with university level teaching. Using stimuli that provoke deep discussion on issues like intersectionality, accessibility, inclusiveness can help start conversations on complex topics in a safe space by using non-threatening stimuli.
Poster #9: Canceled
Poster #10: Ocean Acidification Data Analysis in the Chemistry Classroom
Hilary Palevsky, Oceanography, UW Seattle
Lisa Neshyba, Sammamish High School
Poster #10 abstract
Engaging students in introductory science courses can be challenging when students tackle scientific principles divorced from their real-world applications. Ocean acidification is a current, locally-relevant problem that can be explained using principles of equilibrium and acid-base chemistry. We have developed and pilot tested an ocean acidification teaching module for advanced high school and introductory undergraduate level chemistry courses, designed to complement relevant scientific skill and content learning objectives. The module is centered around a guided inquiry-based data analysis activity using real data on water chemistry and oyster larvae from the Whiskey Creek Hatchery in Netarts Bay, Oregon (Barton et al., 2012).
Design of the module was based on the hypothesis that a hands-on activity applying basic chemical concepts to explain the scientific underpinnings of a compelling real-world problem would increase students' motivation to master the chemical concepts, helping them achieve course learning goals. The module has been pilot tested with seven classes of Advanced Placement Chemistry students in three different western Washington high schools (~200 students). Based on pre- and post-module surveys (n = 160), completion of the module increased students' confidence in their ability to explain ocean acidification and their perception of the importance of the problem of ocean acidification. Instructor observations indicated that the module was successful in improving student understanding of relevant chemical principles and further analysis of survey data will look at qualitative data about changes in students' conceptual understanding of the chemistry of ocean acidification.
This example suggests that incorporating real-world data analysis that allows students to investigate authentic problems can be a successful teaching strategy in science classes. Students can be effectively introduced to issues of human interest in the context of the scientific principles integral to the curriculum while also increasing their motivation to master the core scientific principles of the discipline.
Poster #11: Arts of Social Transformation
Gary Carpenter, Interdisciplinary Arts & Sciences, UW Bothell
Poster #11 abstract
Original research question: What are effective practices in inspiring collaboration in a very diverse classroom comprised of UWB students and UBB students from Monroe?
12 UWB students and 12 Monroe offenders (University Beyond Bars students) collaborated weekly within the Monroe Correctional Complex in BISIA 483, Arts of Social Transformation. Weekly low stakes, group projects propelled by contemporary socially engaged arts practices honed creative confidence and explored art as a tool to spark conversation and as a catalyst for social change.
Two individual projects were further developed in class through a variety of group exercises and discussions. "The Mending Wall" examined personal and social barriers and boundaries, why, how and where they exist and how to inspire social dialogue surrounding these issues through sculpture.   Incarceration, homelessness, discrimination and inequality spurred deep conversations and powerful projects resulting in in high level student engagement.
The final project "Catalyst 4 Change" investigated individually selected social issues through visual and socially engaged art with the goal of generating social change on some level.   Projects explored inequality, displacement, the death penalty, addiction, prejudice, gender and race among other issues.
Project assessment was based on class contributions, extent of social research, personal reflection and depth of conceptual exploration.   The experiential impact of this course was assessed through individual reflection papers in which students discussed social misconceptions and reported gaining a more empathetic understanding of community, privilege, power and prejudice. I now believe that both student groups would gain a great deal by sharing these reflections with one another.
My current research question is one that I would like to engage symposium participants in:   What are effective strategies for sharing these experiential reflections in the classroom to expand students' understanding of the impact of this unique collaboration and what are strategies for assessing the impact of the collaboration?
Poster #12: Random Discussion Leader Improves Discussions and Student Learning
Kristina M. Straus, Environmental Studies (PoE), UW Seattle
Poster #12 abstract
In a discussion based course, I want all of the students in the classroom to actively contribute to dialogue, to learn from one another, and to demonstrate that they read the material closely and came to class ready to ask and answer questions. In my experience as at UW, both as a graduate student and as a lecturer, I have rarely seen discussions of this caliber. To explore ways to improve student learning through discussions, I implemented the "Random Discussion Leader" method or RDL in two 400 level discussion based courses in Environmental Studies.
The class agreed to a set of rules about the RDL method. We agreed that reading loads would be somewhat light but that students would be expected to read all the material very closely and to prepare a set of notes that they could use to lead or contribute to discussion each day. Those notes were turned in at the end of class each day. Each day, a single student was selected at random to lead the discussion. To assess the impact of the project on student learning, I reflected on classroom behavior and discussion quality and I asked the students to assess their reading and preparation, the quality of their learning, and the quality of the discussions in this class as compared to others.
From my perspective, it was clear that the discussions were substantially better and the students reported that they learned a great deal, read more, and contributed much more to discussions than in previous classes. They also indicated that they looked forward to the class and that discussions were rich and satisfying. This was an exciting approach and I would encourage others to try this method. My evidence suggests that the random discussion leader method helped students participate more equitably in the classroom, read more closely, get more practice communicating complex ideas, and have great discussions.
Poster #13: Integrating Service Learning Online: Lessons Learned from a Virtual Classroom
Jody Early, School of Nursing & Health Studies, UW Bothell
Poster #13 abstract
Background: Students are increasingly pursuing their education online, yet research indicates that few students are exposed to service-learning in online coursework. Online learning, especially for busy non-traditional students, can lead to a solitary educational experience. Integrating community-based service learning with the virtual classroom holds potential to enhance student learning, engagement and professional development. The primary purpose of this case study was to explore the benefits and challenges of integrating community-based service learning into a fully online undergraduate course addressing women's global health and human rights (BHS 420). In addition, this case also examined the following:   What are non-traditional learners' attitudes about service learning? Do students taking an online course perceive that service learning has a positive impact on their learning, their willingness to engage in their communities, and their overall course satisfaction? What are best practices for facilitating service learning within a primarily online format?
Methods: As part of the BHS 420 course requirements, RN-BSN students (n = 45) were required to select a service-learning project from a list provided by the instructor by the end of Week 1 of the term. Students selected a project based on their interest in a particular women's global health issue as well as their ability to work collectively or individually with a community partner. In addition to participating online in weekly synchronous and asynchronous learning activities (e.g. online modules, discussions, webinars, etc.), students worked on their service learning project over a span of 8 weeks and for a minimum of 12 hours (total). Students who chose to work in groups with a community partner met with their team and community partner "offline" throughout the term. Students were surveyed at the beginning and end of the course to assess their experience with service learning and their attitudes about its value to community partners and to their own professional development.
Results: Overall, students' attitudes and experiences with service learning were favorable. More detailed results are highlighted as part of the poster presentation. Instructors should consider providing a variety of projects and partners for students taking online coursework, including both offline and online ("E-service") options. This case study also highlights the potential of "E-service learning" (fully online service learning opportunities) that could be used as an alternative for place-bound and full time employed students who may not be able participate in more traditional forms of service learning.
Conclusion: Due to the increasing demand for online learning, and the rise of the "non-traditional learner" as the majority student in higher education, it benefits universities to offer various types of access to service learning and to assess and share outcomes related to these approaches.
Poster #14: Spar: Digital Pedagogy in Southwest Washington State
Rachel Arteaga, English, UW Seattle
Poster #14 abstract
Digital Humanities (DH) brings technology to bear on humanistic inquiry. The goal of my research is to adapt the methods and findings of this field to a new form of digital pedagogy for the K-12 setting. The project is based in Grays Harbor County, Washington, where students and educators have been historically disconnected from university research centers. The title of the project, "Spar," is derived from the early twentieth-century logging practices that resonate strongly in the cultural memory of the towns in this county to the present day. In collaboration with high school English teachers there, I designed lesson plans that used DH to support both the curriculum of specific instructors as well as attend to the expectations of the Common Core State Standards. Teachers assessed the impact on student learning by using the lesson plans and providing informal feedback. A major finding from my research is that technology access is outpacing digital curriculum development in these districts. Increased collaboration between educators across the institutional contexts of K-12 and higher education is an important step in overcoming this shortfall. My work has implications for the field of DH in that it is the first extension of this emerging research to the K-12 setting. It also initiates discussion of the role digital pedagogy might play in support of the Common Core State Standards. Finally, my project is a touchstone for those in the UW community for whom collaboration between the university and secondary education is of interest. Such collaboration generates new insights for teaching and learning in the higher education setting; for example, high school teachers involved in this project report a high level of student engagement with the introductory DH applications, an encouraging finding for instructors at the college level who are considering incorporating more technology into their curriculum.
Poster #15: Strategy for Integrating Writing/Communications into Hard to Reach Curricula
Laurie Anderson, School of STEM – Computing and Software Systems, UW Bothell
Poster #15 abstract
During the Summer 2014, I attended the International Writing across the Curriculum Conference, where I discovered other schools also struggled with building writing/communications into their science curriculum. I also learned a strategy to determine the depth and breadth of the writing learning within a curriculum.
In this strategy, curriculum is examined for writing/communications assessment with a focus on the desired abilities students need to obtain for their future careers. A table is created of these abilities/skills by course and outcome, resulting in a map showing where communications is covered in the curriculum – or maybe not covered.
The resulting map makes it possible to see where faculty can build on knowledge from previous courses, or where holes exist in the curriculum, because concepts weren't scaffolded adequately. For example, faculty may learn that they teach concepts in courses at the beginning of the curriculum, do not reinforce them along the way, then except students to use them in a final capstone, assuming they remember them. Or faculty might discover that they keep asking students to re-learn the same ideas over and over throughout the curriculum, which is very common in writing. In this latter case, a shared terminology across courses can help students realize they aren't learning new concepts.
I'm bringing this idea to the symposium to further refine this strategy. At UWB, the Computing and Software System Master's program will be working through this mapping over the next academic year as part of their process of reconceiving the graduate curriculum. Focus will be on the writing courses and capstone experience. We're hoping to use it to see where the curriculum changed since the beginning of the program and to decide next steps after we've identified and incorporated changes. For example, one hole we've identified to this strategy is how to assess the successfulness of curriculum changes.
Poster #16: Application of Learning Theory in Classrooms and Clinics
Wendy Barrington, Psychosocial & Community Health/Nursing, UW Seattle
Joshua Jauregui, Emergency Medicine/Medicine, UW Seattle
Renata Ferreira, Anesthesiology/Medicine, UW Seattle
Troy Johnston, Pediatrics/Medicine, UW Seattle
Poster #16 abstract
Advances in learning theory have led to an evolution in thinking about how people learn, yet medical education has not kept up with these advances. We evaluated whether a faculty-development workshop could raise awareness and change intention to use learning theory to inform instruction among mostly medical school faculty in order to maximize student learning.
We delivered a 3.5 hour faculty-development workshop to 78 health sciences (mostly medical school) faculty at South Campus Center in April 2014. The workshop comprised an overview of adult learning theories (i.e. behavioral, cognitive, bioscience, and sociocultural) and facilitated activities to inventory current and incorporate new theory-based instructional strategies in classroom and clinical settings. We administered items from the Conceptions of Learning and Teaching (COLT) instrument before and after the workshop. We also administered items to quantify process outcomes (i.e. awareness and intention to use learning theory in instruction as well as barriers to modifying instruction to align with learning theory) after the workshop.
We learned that medical school teaching faculty were very interested in using adult learning theory to improve their teaching both in the classroom as well as at the bedside. Time was identified by faculty as the most significant barrier to modifying currently used instructional techniques. These results suggest that peer-led faculty-development workshops are a viable venue for disseminating "state of the art" instructional approaches and such training is desired by medical school faculty. Faculty work-load may be an important issue to consider in order to facilitate the planning and implementation of innovative teaching strategies.
Poster #17: Creative Engagement Through Community-Based Learning
Deborah Jacoby, Interdisciplinary Arts & Sciences, UW Bothell
Poster #17 abstract
My SOTL poster focuses on how community-based learning for first-year students contributes to their ability to connect with course material and community partners within the performing arts.
Working within the Discovery Core program at UW Bothell, two areas of focus are introductory research skills and engaging students to campus resources. I have developed a course called "Images of Women in Theatre" that includes a community-based learning component and asks students to usher for local theatres. They provide service to the theatre and also receive an opportunity to see the performance playing. The students reflected on both their experience as an usher and what they were able to observe from the gender representation in the play and the acting performances.
I have learned how to promote further dialogue on the course material and also create more avenues of connection for student learning. Students were asked to discuss the material and create embodied images of characters and moments from the plays. Providing them an opportunity to see a play creates an invaluable bridge to the local theatre community.   By providing service to the organization, they are tasked to apply professional skills and examine some of the realities of non-profit theatre work.
I think the importance of this project is in giving first-year students the opportunity to represent the university and extend their connection from the course content to art happening within the community. If we are able to create these types of partnerships for first-year students, they receive an early model of how to apply what they are learning to real word situations and skills. The students build connections to local arts organizations that may have previously been intimidating and inaccessible. I believe community-based learning challenges students to broaden their research and engages them in new and active ways to the community.
Poster #18: Eliminating the Achievement Gap Through Values Affirmation and Course Structure
Hannah Jordt, Biology, UW Seattle
Sarah Eddy, Biology, UW Seattle
Scott Freeman, Biology, UW Seattle
Poster #18 abstract
Evidence suggests active learning and high-structure course formats can disproportionately benefit underrepresented minority (URM) students. Other studies indicate that small psychosocial interventions can lead to a reduction in the achievement gap via the alleviation of stereotype threat. In this study we show that a combination of both strategies can eliminate the achievement gap experienced by URM students in an introductory biology course.
During three quarters of Biology 180 (a large scale, highly structured course that utilizes a significant amount of active learning), students were assigned an online values affirmation exercise requiring ~40 minutes of work outside of class. In the treatment, students wrote about values that were most important to them from amongst an established list. Students in the control treatment wrote about the values on the list that were least important to them. Among URM students there was a significant effect of treatment on academic performance as measured by exam points, effectively eliminating the achievement gap between URM and non-URM students. No effect of treatment was shown for non-URM students.
These results suggest that innovative course structure and psychosocial interventions can act together to eliminate the achievement gap between URM and non-URM students in Biology. It further suggests that instructors and institutions should consider these strategies when designing courses and enacting policies in order to promote an environment that is conducive to all learners.
Poster #19: Reading for All: Teaching Reading in Multilingual Humanities Courses
Elizabeth Brown, English, UW Seattle
John Webster, English, UW Seattle
Poster #19 abstract
International students make up about 16 percent of UW Seattle's undergraduate student body, yet they remain under-enrolled in humanities courses. In response, English 270, "English through Literature," an introductory literature course for non-majors, was developed as an effort to address the question: How can humanities courses be designed and taught to create a comfortable, supportive, and rigorous learning environment for students from diverse language backgrounds? Like other 200-level English courses, the primary goal of English 270 was to introduce students to "active" reading, a critical reading practice in which the aim is not to "settle" meaning but to rigorously explore possible interpretations of literary texts. To attract and support students from a variety of language backgrounds, including those who might have avoided a reading intensive course due to anxieties about their English fluency, we made students' language diversity a resource for teaching active reading. We created a curriculum that taught basics of language study to build students' active reading skills while also making their language experiences central to course content. Our theory was that foregrounding "language" both thematically and instrumentally would make all students feel they had something to offer the class as a whole. Research into the outcomes of the course shows that we were successful in both attracting and supporting students from multiple language backgrounds. A language profile of the class revealed that about 50 percent of students said English was not the primary language spoken at home. Additionally, our analysis of end-of-quarter Student Reflective Essays, course evaluations, and final exam scores demonstrated that the class successfully taught all students to be more confident, active readers of literature. Our research suggests that making students' language incomes a resource in humanities courses can lead to higher enrollments of international students, and, more importantly, contributes to building critical thinking skills for all students.
Poster #20: Plastics, Oceans, and Ships: Field-based Learning Influencing Education
Julie Masura, Interdisciplinary Arts & Sciences – Science and Math, UW Tacoma
Cheryl Greengrove, Interdisciplinary Arts & Sciences, UW Tacoma
Poster #20 abstract
Faculty at the University of Washington Tacoma offer several opportunities for students to engage in field-based learning to explore science topics. These experiences are intended to evaluate student ability to apply the process of science, use quantitative reasoning, and connect science with society. This presentation will highlight student projects from three courses including introduction to science, oceanography, and estuarine field studies. Introduction to science is a general education course, affording a field experience for incoming freshmen. Specifically, this course collects samples from a local beach and surface waters of Commencement Bay to evaluate the presence of plastics in the ocean. A survey is given to each student at the beginning and end of the course to assess their growth in learning the process of scientific applications and discovery. Oceanography is a laboratory science course designed for both science and non-science majors. Students participate in lectures and laboratories with an oceanographic cruise on a research vessel, affording students an opportunity to look at water properties discussed in class. The course ends with a comprehensive report demonstrating their understanding of concepts learned in class and what they experienced in the field. Estuarine field studies is offered to upperclassman in environmental science. These students are out in the field weekly collecting samples and data throughout Puget Sound, examining the connection between estuarine ecosystems, the ocean and local watersheds. A website is created each year as a collaborative exercise with the group and is designed to share class results with interested partners in the community. Results from each of these courses have shown that students gain a better understanding of concepts addressed in class when they participate in real-world, hands-on activities. Field-based experiences are not only important for upper division environmental science majors, but also important for all students entering the university as freshman.
Poster #21: UW Libraries: Student Learning Impact Study
Alaina Bull, UW Libraries, UW Seattle
Katy Curtis, UW Libraries, UW Seattle
Amanda Hornby, UW Libraries, UW Seattle
Poster #21 abstract
In conjunction with the Greater Western Library Alliance's Student Learning Impact Study, we have been looking at what impact library instruction has on the success of first year students, either in overall student performance, or in retention. This study looked at students who are in their first year at UW. This includes freshmen and transfer students. All were enrolled in a class through the Expository Writing Program which has come to the UW Libraries for information literacy instruction. We have accessed anonymized information through the Enterprise Data Warehouse, and cross referenced student retention and GPA with those students who had a library instruction session. We have looked at the types of library instruction the students received, tracking active learning techniques, flipped classroom design, and lecture components, to further explore the impact of specific types of library instruction. This data-centered approach to assessing the teaching and learning that occurs in UW Libraries instruction sessions has allowed us to look deeper at the instruction that first year students receive here at the UW, and begin to formulate a strategic plan for better student learning. This type of approach to classroom assessment will allow for a discussion of teaching practices that are rooted in verifiable data. Combining this data with pedagogy will allow for the creation of a more effective approach to library instruction.
Poster #22: Anti-Racism in Public Health Education: A Model for Change in a MPH Program
Ariel Hart, Health Services, UW Seattle
Amy Hagopian, Health Services, UW Seattle
Jenn Hagedorn, Health Services, UW Seattle
Poster #22 abstract
Background:
Research suggests racial inequities are created and maintained by systemic racism. White people will disproportionately benefit from public health interventions until systemic racism is dismantled. Thus, graduate-level public health programs should be grounded in anti-racism principles to equip students with the skills to eliminate racial inequities. Students of the University of Washington's Community-Oriented Public Health Practice Program (COPHP) advocated their program adopt principles developed by the People's Institute for Survival and Beyond related to undoing institutional racism (UIR).
Methods:
Using the People's Institute definition of racism and guiding principles, we analyzed our program's policies and practices to develop recommendations for more equitable classroom culture and curriculum. We collaborated with faculty and students to provide anti-racist workshops, culminating in a planning meeting. We also consulted with community-based organizations to maintain accountability to the communities we will serve.
Results:
A large majority of COPHP students and about half the faculty have completed UIR workshops. Based on this student-driven work, faculty members established the goal of becoming the first anti-racist public health program. Changes within the program have been evaluated by student discussions and course assessments indicating progress in our goal of achieve equity in voice, perspective, participation and learning in the classroom environment. Both anecdotal evidence and quantitative measures have supported the importance and transformational outcomes of this continued work.
Conclusion:
Undoing racism within an MPH program is an iterative process with many institutional barriers. However this work shows, a graduate MPH program has the ability and duty to produce an anti-racist workforce dedicated to eradicating disparities and creating health equity. This work can serve as a model for other programs, schools and universities who are interested in educating students about the roots of racial inequities and providing equitable learning environments.
Poster #23: Helping Engineering Students Learn Through Reflection: A Sampler of Techniques
Ken Yasuhara, Center for Engineering Learning & Teaching, UW Seattle
Jim Borgford-Parnell, Center for Engineering Learning & Teaching, UW Seattle
Sonya Cunningham, Student Academic Services – College of Engineering, UW Seattle
Kate Mobrand, Human Centered Design & Engineering, UW Seattle
Alyssa Taylor, Bioengineering, UW Seattle
Poster #23 abstract
When students reflect—or dedicate time to revisit and learn from past experiences—they can gain more from their educational experiences and be better prepared for future action. The Consortium to Promote Reflection in Engineering Education (CPREE) seeks to understand the many ways in which engineering students can benefit from reflection and how educators can help them practice reflection. To this end, CPREE staff are interviewing engineering educators at twelve institutions across the U.S., including UW, about the reflection activities they use with their students. The consortium's primary interest is in reflection activities used with undergraduate engineering and pre-engineering students, particularly during the first two years of undergraduate study. The focus on the first two years is partly motivated by research showing how crucial these years are for persistence, particularly for students from underrepresented demographics.
This poster features a sample of local engineering educators' reflection activities with concrete details and "behind the scenes" rationale and advice. The poster also discusses multiple ways in which reflection benefits students and educators. We hope these examples will inspire other UW educators to consider incorporating reflection into their teaching. For more about CPREE, please visit cpree.uw.edu or contact campus lead Ken Yasuhara.
Poster #24: Active Audiences to Active Students: Tactics for Active Learning
Ekin Yasin, Communication, UW Seattle
Poster #24 abstract
To improve student experiences in the classroom, I have found a number of resemblances between the subject matter of my classes (media industries) and the field in which I work (undergraduate education). In particular, I have been struck by the degree to which students – like media audiences – seek utility and entertainment– whether from education or media – that originally aimed to challenge the status quo. What can educators do to trouble this growing equation of education with mere exchange? In this paper, I develop a three-part pedagogical framework for moving beyond the current impasse.
First, I use Stuart Hall's theory of audience reception to develop a notion of students as active educational subjects. What does it mean to be an active student? How can students feel as though they have agency in the classroom? I make students feel active during classes in several ways, by making short films of their experiences with global communities to creating charts that link their everyday media consumptions to media conglomerates we read about.
Second, I draw on theories of neoliberalism that discuss the consequences of privatization in everyday life to examine how the intrusion of market logics in education has reduced active subjects to mere consumers. What are values and principals unique to the classroom-learning environment that defy this basic exchange logic?
Third, I develop a framework for classroom practices that intend to disturb the goals of utility and move the educational experience beyond a moment of mere capital exchange. What are the strategies that we can implement in the classroom that would allow students to see themselves as active students and see the possibility of challenging the status quo of teaching and learning? An example of such a strategy would be an assignment I asked students to complete which was an analysis of a recent human rights campaign to redesign their own version and send it to the organization that they think would be more affective in reaching audiences.
This presentation is based on 6 years of teaching seminar style and large lecture classes. Additionally I use a survey of student perceptions. I am currently in the stage of research design – as a pre-study I designed and administered a brief survey (for 40 students) that ask students their visions of what active learning should look like and what types of student in and out class assignments help create an active learning environment.
Poster #25: Hybrid in the iSchool: Bridging Content, Technologies, and Time Zones
Helene Williams, Information School, UW Seattle
Putri Hiendarto, Information School, UW Seattle
Jillian Boyd, Information School, UW Seattle
Poster #25 abstract
The UW Information School (iSchool) MLIS program is offered in both residential and online modes. We have piloted hybrid courses, testing the feasibility of offering traditionally residential-only classes to a mixed cohort. "Hybrid" in the iSchool means students attend class synchronously either in person or online. Local students are in the classroom, and online students join via Adobe Connect. This tool, along with an appropriately equipped physical classroom, is essential to instruction in hybrid courses as it allows for real time sharing of video, audio, presentations and media from within the "residential" and "online" learning spaces. In fall 2014, the LIS598 special topics course in humanities reference and digital humanities was offered in the iSchool's new high-tech space in Bloedel Hall. As the MLIS program trains information professionals in theory as well as application of resources, a humanities reference/digital humanities course seemed the ideal mix of traditional, print-based resources, many with no digital counterparts, and emerging technologies.
Assessment included a survey of the effectiveness of the classroom and online technology, regular feedback to students regarding both their content research and their use of available technology, and the less formal but satisfying "aha" moments when students shared their insights and created new resources for humanities researchers. Results of this pilot were successful: students in both cohorts learned about the variety and vagaries of online humanities resources, the stability of their print counterparts, and the need for technology to add value and new meaning, not simply glitter, to traditional humanities research and scholarship. For the iSchool, and my teaching specifically, we affirmed that high levels of technical support, as well as student commitment, are needed for a hybrid course. This is valuable information to keep in mind as we move forward with our hybrid offerings, especially ones that rely on location-specific resources.
Poster #26: The Use of Mobile Devices for Academic Purposes
Tara Coffin, Academic & Collaborative Applications, UW-IT, UW Seattle
Henry Lyle, Academic & Collaborative Applications, UW-IT, UW Seattle
William Washington, Academic & Collaborative Applications, UW-IT, UW Seattle
Poster #26 abstract
In an effort to gain a better understanding of how UW students use their handheld mobile devices for educational purposes, we investigated data from the 2014 EDUCAUSE Center for Analysis and Research (ECAR) survey (N=688 UW students, N=585 UW instructors). The 2014 ECAR survey provides insight into the current and projected use of mobile devices for educational activities, their contributions to student learning, and how use and perceptions of these devices here compares with UW's peer institutions. We analyzed survey responses in 2014, juxtaposing this data to trends observed in previous years and compared UW responses to those at similar universities.
Findings from the ECAR survey show a marked increase from 2013 to 2014 in the ownership and use of mobile devices for educational purposes. Additionally, the perceived importance of mobile devices for enhancing academic success has grown significantly among students. Despite these gains, students voiced frustrations about interacting with mobile interfaces that lacked functionality and usability, particularly with regards to the LMS. Instructors see the value of mobile devices as learning tools, however they don't know how to best incorporate these devices into their teaching and perceive them as a distraction.
Analysis of ECAR data allows UW-IT to pinpoint successful efforts, identify areas of need, and discover opportunities for innovation. Based on our analysis, we have made the following recommendations:
Continue improving mobile device interfaces and encourage the development of innovative teaching and learning mobile apps.
Provide professional development opportunities for instructors who want to harness mobile devices as a teaching and learning tool. Incentives, such as time off from teaching to learn how to integrate emerging technologies, will encourage adoption.
Expand access policies for students, including loans that span the entire academic quarter, additional equipment available for loan, and priority for students with greater financial need.
Poster #27: Transformative Learning & Student Agency in Architectural Education: A Narrative Approach
James Thompson, College of Built Environments, UW Seattle
Poster #27 abstract
Contemporary rhetoric from leading educators in professional design programs glorifies the emerging critical practitioner, a reflective agent-type figure portrayed as poised to revolutionize practice upon graduation. From less radical educators, a similar narrative posits education and practice as working in tandem towards a common cause of confronting the numerous (unproblematic) design challenges of the 21st Century. Both narratives palliate the historical and currently simmering disharmonies rooted in the disciplines' diverse epistemologies. What those seeking to reform design education and/or practice lack is an empirically-derived representation of the nascent designer and their development.
This study uses narrative inquiry and analysis to illuminate the graduate student experience in design education as a means of examining and accounting for agency and transformation across academic and professional learning contexts. In-depth, semi-structured interviews were conducted with eight recent graduates of the Masters of Architecture program from the University of Washington's College of Built Environment in an attempt to access how individuals make sense of this transformative sequence of life experiences. Presented here are some preliminary themes from these narratives intended to add depth to the elements of professional design education and shed light on those that go unnoticed or unexamined. Following interviews with current graduate students and faculty, the next phase of this project will consist of analyzing the full set of narratives using concepts of ontological learning and structure-agency theory. In terms of theoretical source material, this selection marks a deliberate broadening from the disciplines' historical focus on skills and knowledge towards a conceptualization of learning that encompasses human qualities and identities. Ultimately, the results of this study are intended to inform professional design education by yielding critical questions, thus supporting ongoing efforts towards reflexive reform via empirical research.
Poster #28: Adventures in Converting to a Semi-Hybrid Class – Mid-Quarter Report
Jaime Diaz, Psychology, UW Seattle
Poster #28 abstract
The basic questions of this project are how does one orchestrate the available video and communications technologies to maximize the learning and comprehension of the subject mater; and will this expanded forum help the student USE what they have learned?
The target of this proposal is a course – Psychology 322 – Introduction to Drugs and Behavior" which currently has an average attendance of approximately 175 to 200 students. As a survey of all drugs that impact behavior, this course is rich in details. One fundamental problem with this course over the years has been how to generate meaningful discussion while still introducing the fundamental materials. I report on two technologies for this project: 1) online pre-lectures (so-called "Gateway" lectures) that the student view before the week of in-class meetings; and 2) Top Hat Monocle – a service which allows the students to use their smart phones, texting phones, tablets, or laptop computers to respond to short 2-minute extemporaneous prompts.
Student opinion concerning these various devices is the chief data set. I am reporting on the first of two of these class surveys – the mid-quarter survey.
With 155 of 175 students reporting thus far: Concerning the Gateway pre-lectures – 79% viewed all of the Gateway lectures and 15% missed only one; 74% said the Gateway lectures enhanced the class. Concerning the Top Hat mini-papers: 72% reported that these were thought provoking and a good part of the class.
The importance of this work is how it addresses an overriding University goal – information fluency. This hybrid redesign may help the students better sharpen their critical thinking skills as well as their communication skills concerning the issues at hand. More importantly, it would allow for them to practice the important skill of extemporaneous discussion and communication of these issues.
Poster #29: Year One, Active Learning Classrooms: Learning in Odegaard Library
Louise Richards, University Libraries, Odegaard Library, UW Seattle
Amanda Hornby, University Libraries, Odegaard Library, UW Seattle
Janice Fournier, UW Information Technology, UW Seattle
Poster #29 abstract
Two Active Learning Classrooms in Odegaard Library opened in Autumn 2013. A multidisciplinary team from University Libraries and UW-IT undertook a year-long assessment project to 1) understand what challenges and opportunities for teaching and learning instructors and students perceive in ALCs and 2) gather data to inform best practices for active learning strategies and future classroom designs. Ninety-three courses were taught in the ALCs in 2013-14 ranging from 100 to 500 level and spanning a wide variety of disciplines.
During course observations, notations about class activity were made every five minutes for the duration of the class period. We administered instructor and student surveys each quarter which sought feedback on the effect of room features on teaching and learning, student experiences, and how teaching and learning in the ALCs compared to a traditional classroom. We conducted focus groups with instructors to understand their experiences in the classroom and what practices were particularly successful for active learning and student engagement. Key results include:
Instructors need support before and during the quarter they teach in the ALC.
Learning to teach in an ALC takes time and reflection on teaching practice.
Students and instructors alike report greater engagement, participation and interaction with each other.
Students report greater gains in learning than instructors when comparing experience in ALC to a traditional classroom.
We identified best practices for teaching in an ALC and essential technology elements that enable active learning. For instructors, two critical practices emerged: be intentional in design and conduct of group work and seek guidance in adopting active learning strategies. Key technologies that facilitate active learning are student displays, round tables and movable chairs, microphones and writable surfaces. Findings suggest that instructors who adopt active learning strategies will see benefits in terms of student engagement and academic success.
Poster #30: Engineering Writing Apprehension, Engineering Writing Affinity
Stephanie Pulford, Center for Engineering Learning & Teaching, UW Seattle
Poster #30 abstract
Research suggests that engineering students are more apprehensive of writing than other students, on average; in fact, many seem to choose engineering because they believe it to be a field that requires little writing for success. But knowing about the aversion of engineering students, on average, provides only limited wisdom about engineering students as individuals. Toward better understanding how writing apprehension affects our classrooms, we have the following questions:
First, how well does the portrait of the "average" writing-apprehensive engineer represent our students? Second, how might students' writing apprehension/affinity affect our efforts to motivate students to learn?
To gain insight into these questions, we look at survey and interview data from the students of three engineering writing classes at University of Washington, including students from sophomore through senior level. We find that apprehension is indeed a standout factor among self-reported motivational traits. Significantly more students reported writing apprehension than any other motivational trait associated with their engineering classes. However, we also discover that writing apprehension is also the most divisive motivational trait among our cohorts of engineering writers: the plurality of students who reported writing apprehension were nearly matched by another large faction who reported confidence, affinity toward, and even enjoyment of writing. These students report enjoying opportunities to have others read, discuss, and evaluate their writing, setting them at odds with their writing-averse peers. Considering only the performance-related anxiety of the "average" writing-apprehensive student may mean overlooking the mastery-related interests of a second large contingent of confident writers. In order to design student-centered learning in engineering classes, we must be vigilant about engaging with them as diverse learners to motivate them to succeed.
Poster #31: Diminishing Distance in Distance Learning: Developing a Relationship-Based, Online Course
Colleen Dillon, Family & Child Nursing, UW Seattle
Miriam Hirschstein, Family & Child Nursing, UW Seattle
Poster #31 abstract
Infant and early childhood mental health (IECMH) is a dynamic field at the crossroads of medicine, education, mental health, and other fields. Using distance-learning models of teaching, we sought to reach a wide, diverse audience of learners, specifically, those just entering fields (undergraduates) or already engaged in frontline practice (e.g., child care providers). As Teaching Technology Fellows, we developed an undergraduate distance learning course guided by the following questions:
What are best practices to maintain a relationship-based approach to teaching this content online?
What are best strategies to utilize video and effective learning activities?
What are best online practices to increase reflective capacity (student ability to consider experience of the other as well as their own experience in the moment)?
How can we scaffold and provide multiple points of entry into course material for these learners?
We are currently half-way through our first quarter teaching, results are pending. To assess impact on student learning, we will review course analytics, analyzing page views, quizzes, as well as qualitative changes in discussion forums. We will collect student evaluations and distribute a measure of reflective capacity at the end of the quarter.
At first blush, teaching a course in infant and early childhood mental health on-line seemed a paradox. Rooted in deep listening, observation, and reflection, IECMH training is traditionally hands-on and visceral. Our task was to translate and model deep relationship-based practice in a 'distance learning' context, effectively, with diverse learners. We found core methods of IECMH lend themselves well to online instruction; second-by-second observations, multi-phase video exercise, and deep reflection in small groups are readily adapted to the digital world. We share strategies to create a vibrant, relevant, and relationship-based course easily accessed on-line by undergraduates and front-line providers, and trials and errors in building and teaching the course.
Poster #32: Course-Based Undergraduate Research Experiences at UW Tacoma: Scaffolding Research Experiences
Erica Cline, Interdisciplinary Arts & Sciences – Science and Math, UW Tacoma
Bonnie Becker, Interdisciplinary Arts & Sciences – Science and Math, UW Tacoma
Megan Schwartz, Interdisciplinary Arts & Sciences – Science and Math, UW Tacoma
Jutta Heller, Interdisciplinary Arts & Sciences – Science and Math, UW Tacoma
Poster #32 abstract
At UW Tacoma, students earning a B.Sci. in Environmental Science engage in authentic research experiences in introductory and advanced classes as well as independent research for a capstone requirement under the traditional apprentice model. Our students are mature (average age 27) commonly returning students and/or place-bound, with a high proportion of military and first generation college students. We are interested in the effect of our introduction of course-based research experiences throughout the four-year curriculum. We tested the effectiveness of an authentic research experience embedded in the introductory biology majors course (the salmon market substitution project) through Student Assessment of Learning Gains surveys, and intend to test effectiveness of this project as well as our new course-based intensive senior research projects through graduating senior and alumni surveys. Students assessed the market substitution project as very helpful to their learning (mean 4.0 on a 1 to 5 scale with 1 no help and 5 great help); overall the project was ranked as high or higher than all other course activities with the exception of the photosynthesis lab, which also involved a student research project. Our one quarter course-based research experience (TESC495 Research Experience) will be assessed through our annual graduating senior and alumni surveys to determine whether they are equally satisfied with their experience and successful in employment and graduate school. Our previous alumni survey revealed that 75% of respondents had completed undergraduate research projects; surprisingly, a higher percentage of first generation college students completed research—80% vs. 71% of students with parents with some college. Among students who had completed undergraduate research, 65% cited it as very important or essential in getting their first job. If course-based research experiences prove equally successful, they could provide an alternative to independent research projects for students who need a more condensed or structured experience.
Poster #33: A Homeostasis Concept Inventory for Undergraduate Physiology
Mary Pat Wenderoth, Biology, UW Seattle
Jenny Mcfarland, Biology, Edmonds Community College
Patricia Martinkova, Statistics, UW Seattle
Poster #33 abstract
This poster presents the development of an assessment tool designed to measure undergraduate students' conceptual understanding of homeostasis. The homeostasis concept inventory (HCI) is intended primarily for undergraduate-level physiology and anatomy & physiology courses in life science departments. The HCI can be used for several ways, to assess students' performance, to reveal and address misconceptions, and to evaluate the effectiveness of teaching and learning structures. The HCI consists of 20 multiple-choice questions that focus on important sub-concepts and component ideas in our validated homeostasis conceptual framework. These questions have been validated using student interviews, faculty surveys and testing in physiology courses at a variety of institutions including community colleges, liberal arts institutions, comprehensive regional universities and research universities. The HCI is designed to detect some common student misconceptions regarding this critical core concept in physiology. Supported by NSF DUE-1043443
Poster #34: PORTAAL: A Classroom Observation Tool Assessing Evidence-based Teaching Practices
Mary Pat Wenderoth, Biology, UW Seattle
Sarah Eddy, Biology, UW Seattle
Mercedes Converse, UW Seattle
Poster #34 abstract
There is extensive evidence that active learning works better than a completely passive lecture. Despite this evidence, adoption of these evidence-based teaching practices remains low. In this paper we offer one tool to help faculty implement active learning. This tool identifies 21 readily implemented elements that have been shown to increase student outcomes related to achievement, logic development or other relevant learning goals with college-age students. Thus this tool both clarifies the research supported elements of best practices for instructor implementation of active learning in the classroom setting and measures instructors' alignment with these practices. We describe how we reviewed the DBER literature to identify best practices in active learning for adult learners in the classroom, and used these results to develop an observation tool (PORTAAL) that documents the extent to which instructors incorporate these practices into their classrooms. We then use PORTAAL to explore the classroom practices of 25 introductory biology instructors who employ some form of active learning. Overall, PORTAAL documents how well aligned classrooms are with research-supported best practices for active learning and provides specific feedback and guidance to instructors to allow them to identify what they do well and what could be improved.
Poster #35: Universal Design in the University Classroom
Anjali Truitt, Institute for Public Health Genetics, School of Public Health, UW Seattle
Joanne Woiak, Disability Studies Program, UW Seattle
Poster #35 abstract
Universal design (UD) stipulates that all products and built environments should be usable to everyone –to the greatest extent possible– regardless of age, ability, or other life circumstances. While originally applied to building design, universal design is increasingly discussed in relationship to classroom design. We were interested in the feasibility and impact of applying UD principles. We tried a variety of strategies, including e-reading materials, captioned films, posted lecture slides, collective class notes, varied assessment mechanisms, and intentional room selection for an introductory, undergraduate Disability Studies course. Through an iterative process, over years of repeated teaching, strategies evolved to improve the adherence and application to UD principles. Instructors, teaching assistants, and students provided feedback through written assessment and oral discussion about the impact of UD principles on their teaching and learning, as well as its feasibility and use in our classroom. It was also recognized that integrating UD teaching practices along with discussion about those practices might itself be an important tool in conveying the subject matter of Disability Studies. Lectures and assignments incorporated analysis of the practical applicability of our UD methods to other disciplines and types of courses. We found UD principles have broad impact. For example, course recordings allow students to participate in class asynchronously, creating flexibility for those who could not physically attend (e.g., athletics, illness, and childcare). Offering varied assessment mechanisms demands a higher level of self-awareness about learning style and goals than most undergraduate courses; it is often difficult for all involved to consider alternatives to traditional methods. Applying UD principles creates accessible learning space for diverse learners. Some of the strategies can be implemented with relatively minor classroom policy and attitudinal changes. However, resource and time constraints limit the flexibility necessary to implement to the fullest extent.
Poster #36: Researching and Archiving Local Feminist Activism: A Pilot Assignment
Julie Shayne, Interdisciplinary Arts & Sciences, UW Bothell
Poster #36 abstract
This presentation considers the efficacy of an assignment I have designed for my new class "Histories and Movements of Gender and Sexuality." I am presently (spring 2015) teaching this class for the first time and designed an assignment which asks the students to collectively write a history of a local feminist or gender justice organization. Students will work in groups to conduct interviews, collect primary sources, write an essay to be pitched to The Seattle Globalist, and submit interview transcripts, images, and primary documents to the new Social Justice and Diversity Archive co-created by UWB librarians and myself. This assignment is in a 300-level, 45 person, undergraduate course in the School of Interdisciplinary Arts and Sciences at UWB.
I will assess the assignment in collaboration with Kara Adams, Acting Director of UWB's Community Based Learning and Research office and Denise Hattwig, library curator of the UWB Social Justice and Diversity Archive. Kara will follow-up with community partners to make sure they feel they benefited from the assignment; Denise will check the document formatting to make sure the students' efforts were thorough enough to not create excess additional labor for the librarians/archivists, and I will assess the quality of the students written and analytical work based on the expectations conveyed throughout the quarter, both verbally during in-class workshops and via the different handouts. Based on our assessment I will adjust the assignment accordingly for my next iteration; AY 2015-16.
Because this is a class- and assignment-in-progress my presentation will be structured to reflect and report on both thus far. As a Community Based Learning and Research Fellow at UWB I intend to share the idea of this assignment with other faculty interested in fusing community based teaching and research vis-à-vis individual course assignments.
Poster #37: Using Catalyst Surveys to Understand and Support Students with Disabilities
Tiffany Woelfel, School of Social Work / School of Public Health, UW Seattle
Poster #37 abstract
I will present a poster on the results from a 2013-2014 Catalyst survey designed by students in the School of Social Work (SSW). The purpose of this survey was three-fold: 1) to quantify the proportion of students with disabilities in the SSW, 2) to understand the relationship between self-disclosure and stigma in a learning environment and 3) to see if self-disclosure of disability status impacts access and delivery of campus resources to students. "Self-disclosure" refers to "an intended release of personal information by individuals regarding their tastes, interests, work, money, education, attitudes, opinions, body, and personality" (Lynch & Gussel, 1996).
Students were recruited to complete this voluntary and anonymous survey through email and student Facebook groups. The survey was comprised of open and close-ended questions that asked about several subtopics on disability including the importance of teacher conduct and training to facilitate disability status self-disclosure in classroom settings. Sixty students reported how aware they were of disability resources on campus and shared how other factors, including classroom size, faculty training, and choice of major or concentration influenced choice to self-disclose and self-advocate for accommodations. Last, the survey asked students how they identified with disabilities at different times in their life, highlighting the fluidity of disability across the lifespan and during college
Results from this survey provided recommendations for professors, departments, and campuses. For example, instructors can create a safer environment for self-disclosure by speaking with students individually before the course begins to understand what accommodations the student needs, addressing any concerns they may have about their the course expectations and identifying students' preferences in regards to anonymity. If the instructor and student communicate about these topics before courses begin, instructors could pave a clearer pathway from the classroom to disability services for accommodations and additional support to the student. This research process can be used to design and improve student programs: by adopting campus-wide surveys, educators can identify gaps in faculty training on disabilities and address these gaps to enhance the overall student experience.
Poster #38: Using ALEKS and Gamification to Improve Underprepared Students' Mastery of General Chemistry
Cynthia Stanich, Interdisciplinary Arts & Sciences, UW Tacoma
Poster #38 abstract
General chemistry is a difficult course for many students, especially those who enter college underprepared in some way.  One proposed tool for helping these students master chemistry is the use of an adaptive learning program called ALEKS.  However, underprepared students can feel discouraged and give up on ALEKS as they fall behind.  I have developed a response to the challenges associated with adaptive learning homework, which is The ALEKS Game.  Gamification is a popular tool for businesses, teachers, and employers interested in increasing retention of users for a specific platform. Gamification of academic work can be viewed as a reversal of student motivation from a series of missed points to opportunities to gain points, and this poster will describe the mechanics of the gamification of ALEKS. In order to study the effectiveness of gamification, at UWT, second quarter general chemistry students experienced a gamified grading system of ALEKS. This grading system includes points for homework completion, topics mastery, and good study habits. Online usage behavior, overall ALEKS mastery, and final exam grades were compared to the students in the prior quarter section taught by the same instructor. These data show that students may have been more engaged with the homework system, which may support the notion of motivation of students through a more positive view of points in a course as compared to the more traditional grading system.
Poster #39: Enhancing Online Teaching Presence
Dorothy Paun, College of the Environment, UW Seattle
Claire Dawson, College of the Environment, UW Seattle
Poster #39 abstract
The major disadvantage of online courses is the loss of personal contact between the teacher and students. Online teaching presence, the virtual "visibility" of the instructor, has been found to be positively correlated with student motivation, learning, and satisfaction (e.g., Baker 2010, Garrison and Arbaugh 2007). When designing my first online course, I reviewed literature relating to teaching presence and discovered that most authors focused on increasing immediacy (i.e., shortening response times) of asynchronous online activities (email, discussion boards, announcements, etc.) to increase teaching presence. Less was written about the guidance that I sought: insights and ideas for synchronous (real time and interactive) instructor activities for a deeper online teaching presence. I stopped searching the asynchronous-prone literature and sourced my imagination for ideas on how to amplify my online teaching presence. How could I use an existing tool in Canvas to increase online teaching presence – an interactive tool with an audio and visual interface, that was flexible to needs, adaptable to circumstances, and easy for all to use? In the six months that have passed since I postulated this question, l have used the Canvas' Conference tool to increase my teaching presence in more ways than I could have imagined (e.g., small and large classes, guiding teaching assistants, mentoring capstone research students, conducting teaching and research collaborations). Assessment-wise, both teaching assistant and student feedback confirm enhanced teaching presence.
According to Szulanski (2003), it is the extent to which online instructors are willing to demonstrate and promote their strategies with peers that determines the adoption and "stickiness" of knowledge transfer. This presentation will conduct a live, interactive demonstration, using a laptop, so that attendees can experience the adaptive capacity and unique features of the Canvas Conference tool.
Poster #40: Intercultural Learning as an Opportunity to Solve Global Environmental Issues
Ursula Valdez, Interdisciplinary Arts & Sciences, UW Bothell
Poster #40 abstract
As part of the 2015 COIL fellowship, I have designed a course that incorporates a parallel teaching with a colleague at the Universidad Peruana Cayetano Heredia in Peru, and includes involvement of our respective students.
My work discusses the process undertaken to achieve successful collaborations among educational institutions, and the role that these collaborations and intercultural communities have on the learning of students from different institutions and countries. I also provide examples on the content/goals of the 4 learning modules that my course covers, which are based on parallel stories from Washington State and regions of Peru (i.e. Tropical and Temperate Forest, Salmon and Anchovy fisheries, Mountains and Climate change, and Biodiversity in Peru and the PNW). Each module aims for students to learn, research and share information from their regions. The collaborative learning includes student analysis of current data to understand the environmental challenges that each region faces, and to understand how those are connected between the two regions. Through these learning modules, I also aim for students to collaboratively think and design strategies for potential solutions to those challenges.
To assess the course's impacts on student learning, I plan on conducting pre and post evaluations on the knowledge acquired. I also aim to evaluate the impacts that the students collaborative projects may have in the short and long term on their respective communities.
While my course is on Environmental Sciences, the approaches and techniques could be applicable to other disciplines. The use of international collaborations to enhance the efficiency of teaching and learning might capture the attention of those interested in creating multicultural learning communities. This could also appeal to those who have taken students abroad and may want to expand the impacts of global education to those students who for many reasons cannot travel.
Poster #41: Bringing Art to the Social Sciences: Creating Creative Assignments
Lauren Montgomery, Interdisciplinary Arts & Sciences, UW Tacoma
Poster #41 abstract
Integrating art into social science courses provides rich possibilities to enhance student learning and engagement with scientific material. It allows for the expression and cultivation of multiple learning styles, while bringing artistic, hands-on learning to an otherwise relatively intellectual discipline. In this report I describe three experiments with artistic assignments in undergraduate psychology courses at the University of Washington, Tacoma. The assessment of engagement and learning was done through student surveys, an assessment of the progress made and the quality of work completed, and reflective conversations with students on the value of the artistic assignments. In this poster, the three course experiments described are:
1)  History and Systems in Psychology students were required to work in small groups creating 30 minute skits where historic figures from various schools of thought interact in a creative, dramatic context that expresses their ideas and contribution to the field.
2)  Adult Development students were required to create an artistic video of an interview with an adult over fifty years old, integrating music, photos and other artistic elements into their project.
3)  Psychology and Art students worked through the exercises in Drawing on the Right Side of the Brain as part of the required reading, getting first hand experience with drawing and the left-brain/right-brain shift the author describes.
In the course of several quarters using each of these methods, I found that artistic assignments are highly engaging for the students, but they require explanation, encouragement and very clear descriptions of the grading criteria for students to understand and be comfortable embracing them. If this is provided, the results are a more dynamic and interesting course. Students feel satisfied in being stretched to engage outside of their normal comfort levels, and report greater breadth of learning in terms of both course content and personal skill development.
Poster #42: Fostering Better Peer-to-Peer Learning through Writing Center In-Class Peer-Review Workshops
Peter Freeman, Odegaard Writing & Research Center, UW Seattle
Charlie Jones, Odegaard Writing & Research Center, UW Seattle
Cali Kopczick, Odegaard Writing & Research Center, UW Seattle
Poster #42 abstract
In efforts to support instructors with the often-fraught practice of in-class peer-review – which can easily devolve into inexpert 'grammar checks' rather than substantive, revision-oriented peer learning – we sought to better understand: (1) what have students' prior experiences with peer-review been, and (2) what sorts of workshop interventions might help them rethink their approach to reviewing each other's work?
The setting for exploring these questions took place in classrooms on the UW Seattle campus, varying in discipline, size, and level: from introductory composition courses capped at 18 students, to upper-division biology courses with more than 70 students, to graduate seminars. Students in these courses vary in terms of backgrounds and past educational experiences, furthering the need for flexibility.
To measure the impact of our workshop on student learning, we conducted pre- and post-workshop surveys on students' past experiences with peer-review, as well as their impressions of the methods used during the workshop. We also asked instructors to complete an online questionnaire that asked for their impressions of the workshop. We then used methods from discourse analysis and conversation analysis to identify trends in experience and language.
The combination of student observations and instructor feedback demonstrated that the workshops are both well-received and thought-provoking, but also that deep-seated notions and practices of what peer-review is (including practices students acknowledge as ineffective) are slower to change even once disrupted by workshop content.
We see the tangible implications of these workshops for the OWRC in terms of marketing and tutor-recruitment. We also continue to see less tangible (though more important) signs of transformations to teaching and learning as a result of students and instructors' adopting a more generous, revision-focused, and transferable approach to supporting writing and learning from their peers. At best, these workshops positively alter the culture of writing at UW Seattle.