Center for Teaching and Learning
2019 poster contest finalists & prize recipients
Thanks to everyone who participated in the 15th Annual Teaching & Learning Symposium poster contest!  The Symposium selection committee chose six finalists based on the appearance and content of their posters. Three of the six finalists received cash prizes for the appearance, content, and presentation of their work. Check out their work below. Congratulations!
2019 prize recipients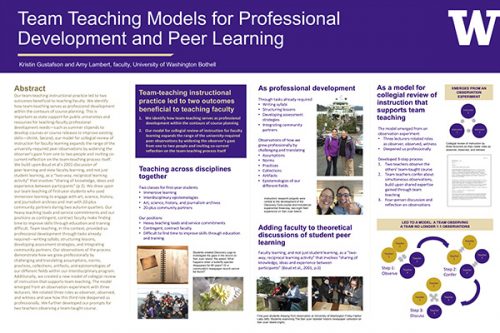 Team Teaching Models for Professional Development and Peer Learning
Kristin Gustafson
Amy Lambert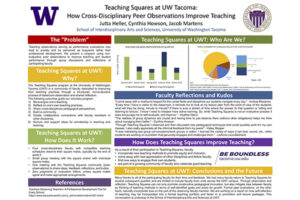 Teaching Squares at UW Tacoma: How Cross-Disciplinary Peer Observations Improve Teaching
Jutta Heller
Cynthia Howson
Jacob Martens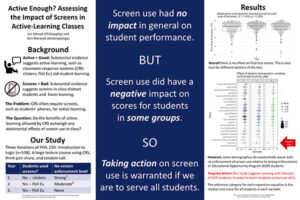 Active Enough? Assessing the Impact of Screens in Active-Learning Classrooms
Ian Schnee
Ben Marwick
2019 contest finalists
Poster #9:  Team Teaching Models for Professional Development and Peer Learning
Kristin Gustafson, SIAS, UW Bothell
Amy Lambert, SIAS, UW Bothell
Poster #9 PDF
Poster #9 abstract
Our team-teaching instructional practice led to two outcomes beneficial to teaching faculty. We identify how team-teaching serves as professional development within the contours of course planning. This is important as state support for public universities and resources for teaching-faculty professional development needs—such as summer stipends to develop courses or course releases to improve existing skills—shrink. Second, our model for collegial review of instruction for faculty learning expands the range of the university-required peer observations by widening the observer's gaze from one to two people and inviting co-current reflection on the team-teaching process itself. We build upon Boud et al's 2001 discussion of peer learning and view faculty learning, and not just student learning, as a "two-way, reciprocal learning activity" that involves "sharing of knowledge, ideas and experience between participants" (p.3). We draw upon our team teaching of first-year students who used immersive learning to engage with art, science, history, and journalism archives and met with 20-plus community partners during two autumn quarters. Our heavy teaching loads and service commitments and our positions as contingent, contract faculty make finding time to improve skills through education and training difficult. Team teaching, in this context, provided us professional development through tasks already required—writing syllabi, structuring lessons, developing assessment strategies, and integrating community partners. Our observations of the process demonstrate how we grew professionally by challenging and translating assumptions, norms, practices, collections, artifacts, and epistemologies of our different fields within our interdisciplinary program. Additionally, we created a new model of collegial review of instruction that supports team teaching. The model emerged from an observation experiment with three lecturers. We rotated three roles as observer, observed, and witness and saw how this third role deepened us professionally. We further developed our prompts for two teachers observing a team-taught course.
Poster #11:  Setting the Tone: Why Asking for Pronouns Isn't Enough
Vern Harner, Social Welfare, UW Seattle
Poster #11 PDF
Poster #11 abstract
This poster discusses strategies for creating affirming classrooms for transgender, disabled, and other marginalized students. Beginning prior to the first day of class, instructors are poised to signal what to expect in their classroom environment. The initial tone that's set shapes student experiences and engagement with course content.
Working with both undergraduate and graduate students in small lecture and discussion based settings, interpersonal dynamics can impact learning. Students with one or more marginalized identity may be unsure of what to expect–whether their access needs will be met, if they will be misgendered, or if racist microaggressions will be challenged. Whether they are incoming students or students on the cusp of graduation, providing clear expectations and modeling appropriate behavior as an instructor is necessary.
A growing body of literature explores strategies to create anti-oppressive and affirming university classrooms, as well as the impact of the classroom environment on marginalized students and their learning (Lawrence, 2005; Lee & Ho, 2010; Mathieson, 2004; Morgan et al, 2011; Mulcahy, et al, 2016; Sulik & Keys, 2014). As an instructor, many comments I receive on evaluations are related to the affirming environment and meeting of access needs (i.e. what students need in order to participate the class). Students expressed this enabled them to voice their opinions, even dissenting ones, and engage in more critical thought.
Takeaways from this poster include both specific and broad tangible strategies and tools instructors can use to set the tone in their classroom. Specifically, I suggest sending a pre-class letter, asking students to share their access needs and how to address them the first day of class, checking in about access needs and how students would like to be addressed 1-2 times per quarter (as these can shift), and ways to model accountability around microaggressions.
Poster #15:  Teaching Squares at UW Tacoma: How Cross-Disciplinary Peer Observations Improve Teaching
Jutta Heller, SIAS, UW Tacoma
Cynthia Howson, SIAS, UW Tacoma
Jacob Martens, SIAS, UW Tacoma
Poster #15 PDF
Poster #15 abstract
Teaching observations serving as performance evaluations may lead to anxiety and be perceived as busywork rather than professional development. We present a program using non-evaluative peer observations to improve teaching and student performance through group discussions and reflections of participating faculty. The Teaching Squares program at the University of Washington-Tacoma is a community of faculty dedicated to improving their teaching practices through a structured, non-evaluative process of classroom observation and shared reflection. The following outcomes guide our program: 1) Re-energize one's teaching, 2) reflect on one's own teaching practices, 3) share cross-disciplinary pedagogical perspectives, 4) build a community, 5) create collaborative connections with faculty members in other disciplines, and 6) nurture and support ideas for scholarship in teaching and learning. 39 faculty members participated in Teaching Squares at UW-Tacoma since its inception in autumn 2017. These faculty represent various divisions with the School of Interdisciplinary Arts and Sciences, as well as the School of Engineering and Technology, the Social Work and Criminal Justice program, and the Urban Studies program. In this poster we will share some of the observations and reflections that have emerged from Teaching Squares, centering on the following topics: effective use of technology, metacognition and study skills, active learning and student engagement, effective group work, and building inclusivity. One faculty member observed: "While Teaching Squares is not an evaluative process it does encourage me to self-evaluate and improve." Another faculty member reflected: "I was reminded of all the different ways students can […] be engaged with course material[…]". As a result of their participation in Teaching Squares, faculty incorporate new methods into their teaching, come away with new appreciation of other disciplines and fellow faculty, find new ways to engage their own students, and are part of a growing community of faculty who celebrate good teaching.
Poster #34:  Genome Hackers: A Near-Peer, Interdisciplinary Approach Towards Teaching Computer Science
Chiann-Ling Cindy Yeh, Genome Sciences, UW Seattle
Andria Ellis, Genome Sciences, UW Seattle
Poster #34 PDF
Poster #34 abstract
For the past two years (2017-2018), graduate students in the UW Genome Sciences department have been running "Genome Hackers," a week-long summer coding camp for high school girls. Here we will be presenting implementations of this near-peer, interdisciplinary outreach curriculum where graduate and undergraduate students provide a fun and creative, yet rigorous environment for young women to learn computer science (CS) and how it applies to biology. Fewer than one-third of each cohort had taken programming classes at school, and the majority of our applicants had either no coding experience or only worked with visual programming languages. Despite this, 100% of our students completed our curriculum. Furthermore, pre- and post-surveys showed increases in interest in taking future programming classes (40%), ability to solve programming-related problems (20%) and in desire to pursue a CS-related degree or career (19%).
Several factors made our program successful: firstly, our student to instructor ratio (~5:1) made the program immersive and catered towards active learning. Secondly, both independent and group assignments were collaborative and casual, where students could freely share obstacles and exchange solutions. Thirdly, our curriculum essentially takes students through a day in the life of a scientist, making their projects meaningful and results exciting. We incorporated exercises in communication, social awareness, and professional development which contributed to the students reporting that they had a good understanding of the relationship between a biological science, like molecular biology, and CS. We capitalized on their interests in biology to make harder-to-grasp concepts in CS more accessible. Our approach recapitulates outcomes of research in interdisciplinary learning; essentially that an interdisciplinary program, such as Genome Hackers, provides better perspective into two different subjects, provides a better idea of real-world applications, and creates insights to better understand a topic that was previously too difficult or complex.
Poster #43:  A Collaborative Approach to Defining Essential Undergraduate Biology Competencies
Alexa Clemmons, Biology, UW Seattle
Jerry Timbrook, Sociology, University of Nebraska-Lincoln
Jon Herron, Biology, UW Seattle
Alison Crowe, Biology, UW Seattle
Poster #43 PDF
Poster #43 abstract
What should a Bachelor's degree in biology encompass? Biological knowledge has grown so vast that it is not feasible for a general biology curriculum to adequately "cover" all topics in four years. Furthermore, biology graduates pursue diverse careers in and out of STEM and therefore need transferrable skills. To address these challenges, multiple influential groups in biology education have sought to redefine curricula, most notably AAAS in the 2011 report Vision and Change in Undergraduate Biology Education. This report outlines an exciting transformation in biology education, including the organizing of curricula around five core concepts and six core competencies. However, concept and competency descriptions were purposefully left brief to encourage ongoing conversations among educators. Taking a backwards design approach to curriculum development, we set out to elaborate the core competencies into a nationally validated set of learning outcomes (called the "BioSkills Guide") that describes what skills general biology majors should have by the time they graduate.
To develop the guide, we employed web surveys, semi-structured interviews, and interactive workshops to gather feedback from over 500 biology educators with experience teaching a range of biology subdisciplines, course levels, and student populations. We chose to focus on instructor perceptions at this stage because they bring expertise as scientists and educators, and they are the intended end users. We iteratively revised the guide following five rounds of in-depth feedback, and then nationally validated the final draft. In this poster, we present our mixed-methods approach to developing the BioSkills Guide and share findings from our quantitative and qualitative analyses. We envision the guide being a widely valuable tool for instructors and administrators planning teaching of biology core competencies in individual courses or whole undergraduate programs. Furthermore, because the competencies span broadly relevant skills, it could be readily adapted for other STEM disciplines.
Poster #51:  Active Enough? Assessing the Impact of Screens in Active-Learning Classrooms
Ian Schnee, Philosophy, UW Seattle
Ben Marwick, Anthropology, UW Seattle
Poster #51 PDF
Poster #51 abstract
There is substantial evidence that use of phones and other screens in class negatively impacts student learning. There is also substantial evidence that classroom response systems (CRS) positively impact student learning. Many CRS, though, including the Poll Everywhere system adopted by UW, require screens in class. We investigated whether the positive benefits of active-learning allowed by CRS outweigh any detrimental effects of screen use in class.
To do so, we used a quasi-experimental design covering three iterations of PHIL 120: Introduction to Logic (Spring 2016, 2017 and 2018). PHIL 120 is a lecture course of 180 students per quarter (n=538). We controlled for several variables, including instructor, course textbook and materials, assessment methods, course difficulty, student GPA, etc. The independent variable was the use of screens in the classroom. In 2016, students used a CRS without screens ("clickers"), and a no-screens policy was enforced (monitored by TAs). In 2017, students used a CRS with screens (Poll Everywhere), but other uses of screens were regulated (non-CRS uses monitored and grade penalties enforced by TAs). In 2017, students again used a CRS with screens (Poll Everywhere), with unregulated screen use. The dependent variables were student engagement in lecture, measured by trained observers, and student performance on the final exam, measured by a set of higher- and lower-cognitive-order questions common to the exams in the years studied.
We found various conditions of screen use had no significant impact on student performance or engagement. Students performed equally well in the three years on questions at both higher and lower cognitive levels. This result has broad implications, because many faculty at UW and nationwide employ active-learning strategies and struggle with formulating and enforcing sensible screen-use policies. Our study suggests that it is possible to reap the benefits of screen-based CRS without the harmful side effects.
What makes an effective poster presentation?
The posters above showcase impact through clear and transparent content, visual appeal, and conversation. Visit the Teaching & Learning Symposium poster contest page for a complete list of criteria used to evaluate submissions.