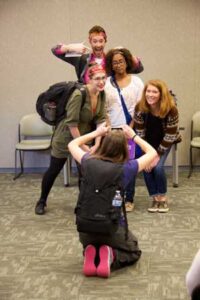 As part of the GRDSCH 525 Acting Up: Amplifying Voices Through Interactive Theater as Pedagogy course, graduate students work in teams to create four different interactive plays addressing topics such as racism, white privilege in study abroad programs, invisible disabilities, and socioeconomic class discrimination.
In conjunction, students develop interactive lessons plans based on the play they co-create. Each lesson plan includes a set of learning objectives and teaching tools that instructors might adapt and use in their teaching to promote critical awareness, interactive learning, and community dialogue on social justice issues affecting the UW community.
Lesson plans
In each module, you'll find a sample lesson plan plus additional pedagogical and content resources. While your course content may not engage these social issues specifically, we encourage you to read through the modules and think about how you might adapt any of these tools for your audience and course learning objectives.
Facilitator resource
Consider reflecting on your attitudes and personal experiences with these topics prior to facilitating the lesson plan.  For more information visit Diversity Issues for the Instructor: Identifying Your Own Attitudes.
If you have further questions about how to adapt or use these modules in your teaching, please contact teaching@uw.edu.