Kevin Gannon, Professor and author of "A Radical Hope: A Teaching Manifesto"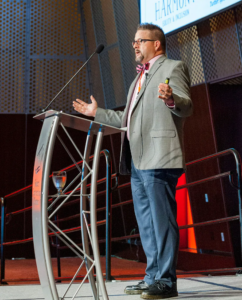 Kevin Gannon is the Director of the Center for the Advancement of Faculty Excellence and Professor of History at Queens University of Charlotte, in North Carolina. He is the author of Radical Hope: A Teaching Manifesto (2020), and his writing has also appeared in The Chronicle of Higher Education, the Washington Post, CNN, and Vox. In 2016, he appeared in the Oscar-nominated documentary 13th, directed by Ava DuVernay.
"Sustaining Communities of Hope"
April 18 | 1-2:15pm in the Walker Ames Room KNE 225
To enhance this year's theme of sustainable teaching, Kevin Gannon (author of Radical Hope: A Teaching Manifesto) will share perspectives on how we can use hope to foster sustainable practices for ourselves and our teaching communities
As Professor Gannon describes his Symposium keynote address:
This session will not talk about "silver linings" or "making the most of the new normal." In fact, one of the crucial elements of acting with hope is an honest acknowledgement that "normal times" were unsatisfactory and unsustainable. The session will, however, offer some avenues to ground our pedagogy in an ethic of hope, as opposed to a program dictated by fear. In this sense, thinking about "hope" as a meaningful combination of agency and action is important—we can't sustain ourselves or each other doing this work otherwise.
We'll look at reflective strategies to own our own pedagogical stances, and to ensure they align with the values we profess. Focusing on the idea of presence, we'll formulate strategies to welcome (and re-welcome) students into being fully present with our courses and one another. Finally, we'll examine what research shows us about students' sense of belonging, and ways in which our course design and teaching practices can foster community and meaningful learning.