By Timea Tihanyi, School of Art + Art History + Design
Because art is a dialogue, much of what the Interdisciplinary Visual Arts seniors have been doing in ART 400 this quarter has been synchronous. Instead of the white-box gallery exhibition, students are presenting their work in a virtual "gallery" for which each student created both a senior project and an art portfolio website. By still presenting the work publicly, we're trying to create a sense of normalcy. Working on an online platform gives the students new tools and new opportunities for content and form. It's difficult to make creative work in isolation, so we've done guided peer critiques using the breakout room function in Zoom regularly.
Students have also had various opportunities to get the most important class content, do work, give and receive reviews asynchronously. They co-authored artist statements and gave written progress reports and feedback using Google Docs. Then used the feedback they received from peers and from me when preparing their online portfolios.
As for the final grading, only a small percentage of the final grade comes from the final project. I used a large number of low-stakes assignments throughout the quarter (such as the written progress reports and feedback). Our finals are a way to look back on the process, get a better understanding of each student's individual perspective, and reflect on their quarter-long conversations with each other, me, and their work.
---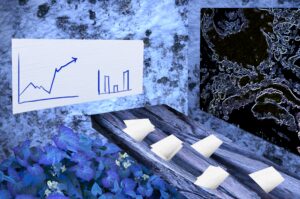 Learn more about the ART 400 gallery page, "Ebb and Flow," and find links to the students' portfolio sites on the IVA Open House page.
Timea Tihanyi is a senior lecturer in the School of Art + Art History + Design's Interdisciplinary Visual Arts concentration.