Center for Teaching and Learning
Evidence-Based Teaching Program
The Evidence-Based Teaching Program (EBT) offers collaborative peer support, as well as support from teaching and technology consultants, in cross-disciplinary groups facilitated by UW faculty.
Faculty choose to participate in synchronous Zoom groups that meet four times a quarter or asynchronous Canvas groups. Both kinds of groups observe peers in their classrooms and learn what research says about effective teaching. They also experiment with new approaches and explore ways to conduct classroom-based research.
Support for remote instruction
EBT participants:
Explore contemporary research on closing gaps between teaching and learning
Develop effective approaches for teaching anywhere
Receive peer and CTL/Learning Technologies support while implementing new approaches and using new tools
Open to all UW faculty members. Registration for autumn quarter meetings will be posted in September.
What are the benefits of joining EBT?
Improved teaching and student outcomes
A community of peers invested in re-envisioning their teaching and supporting one another
Mentorship from instructors across campus who use best practices in their teaching
Opportunities to advance as a leader in teaching and learning at the UW
What is expected of participants?
You can join an EBT that meets via Zoom or an asynchronous Canvas-based group.
Synchronous group members attend four one-hour Zoom meetings a quarter.
Asynchronous group members participate in online Canvas discussions.
Who participates in EBT?
Over 261 UW instructors from 89 departments have participated in the program, and 21,000+ students have taken EBT-informed courses.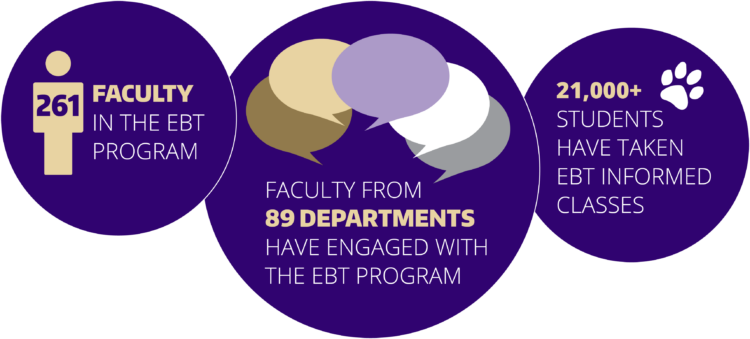 EBT in the news