Center for Teaching and Learning
Technology Teaching Fellows
July 12 – 16, 2021
The Technology Teaching Fellows Institute (TTFI) offers participants the chance to learn with other faculty members, learning technologists, instructional consultants, and librarians. This year's program will be fully online and asynchronous with options for synchronous online participation.
Participants:
Redesign a 2020-2021 course
Transform another course to fully online (or blended*) or
Design a new fully online (or blended*) course
*We define "blended" as a course that is 50%-80% online. 
Participants engage in:
Evidence-based sessions on best practices and innovation
Discussions about equity in online and hybrid learning environments
Selecting UW-supported technologies that advance student engagement and learning
Creating faculty efficiencies in assessing student work
Collaborative asynchronous sessions with peers, TTFI alumni, instructional consultants, instructional designers, librarians, and technologists
2021 Institute timeline
April 29-May 24: Call for Applications
May 24 (5 p.m.): Deadline to submit an application
June 8: Applicants are notified of their status
June 16 (5 p.m.): Accepted applicants confirm participation
July 12-16: Five-day online TTF Institute
Week of December 13: Peer review session (date and time are TBD)
2021/22 academic year, summer 2022, or autumn 2022: 2021 TTFI participants teach their new blended or online courses
Expectations
Participate in all five days of the TTFI program. The Institute has five days of required asynchronous sessions with optional online synchronous engagements.
Participate in the December peer review session. Courses designed or redesigned in July are reviewed with and by TTFI colleagues, instructional consultants, and instructional designers in small groups.
Teach your new hybrid or online course. 2021 TTFI participants teach their course during one of the following academic quarters: Autumn 2021, winter 2022, spring 2022, summer 2022, or autumn 2022.
Compensation
July 2021 TTFI faculty participants receive funding and ongoing instructional support.
Individual faculty members receive $2000 each for participating in the two parts of the Technology Teaching Fellows Institute: July 12-16, 2021, and the December 2021 feedback session.
Faculty members on a course team divide the $2000 compensation between team members.  Team members participate in both parts of the Technology Teaching Fellows Institute: July 12-16, 2021, and the December feedback session.
Application procedure
The deadline to submit applications for the July 12-16 Technology Teaching Fellows Institute has passed. Please check back in autumn for information about the 2022 institute.
UW faculty members are invited to apply, either as individuals or as a two-person team.
We seek instructors who are committed to truly transforming their courses—both in format and design. We are especially interested in course transformations that will have broad impacts for undergraduate students (for example, by increasing access to gateway courses).
Applicants with varying levels of technical ability and knowledge are encouraged to apply. CTL and Academic Technologies consultants will be available to provide training and support at the week-long Institute.
Applicants are asked to upload:
A one-page letter of support from your chair explaining the value of your proposed project in terms of:

Student learning, achievement, and/or engagement
Department curriculum
Faculty development
In addition, applicants are asked the following questions:
Why do you want to transform, or develop your course? Include details about:

Class size and level
Place in curriculum
Student demographics
Goals for student learning, engagement, and achievement

How do you hope to transform, or develop your course and how do you envision the TTF Institute will help?
Who participates in TTFI?
Since the institute began, 220 UW faculty from 89 departments have participated. Over 170 courses have been redesigned, and 19,000+ students have taken TTFI redesigned classes.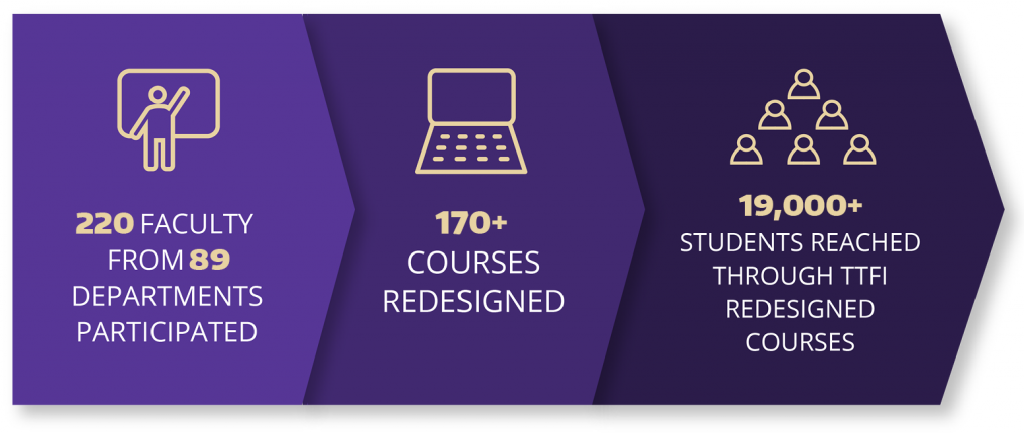 Questions about TTFI?
Please contact Christine Sugatan, program administrator, at
teaching@uw.edu
.
Questions about intellectual property?