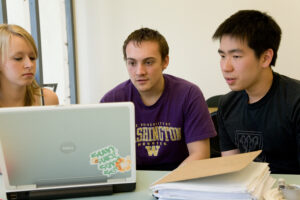 Tutoring individual students or small groups of students can enable you to diagnose and address students' difficulties with course material more specifically and thoroughly than in a large class setting.
Being a successful tutor requires several strategies:
Asking questions rather than simply giving answers.
Listening to each student's responses to your questions to help you diagnose the student's confusion.
Actively involving the student in reaching solutions.
Asking the student to explain what s/he now understands.
Acknowledging the larger context in which the student is working and keeping his/her learning consistent with this context.
For additional suggestions related to teaching students individually, see the CTL page on office hours.
NOTE: UW policy restricts situations in which TAs (and other staff) can receive compensation for tutoring. See the UW Policy Directory for details.
SpaceScout
Need a place to meet? Use SpaceScout to find a study space, a computer lab, a cafe or other types of spaces on the UW campuses. You can also download the SpaceScout iOS app from the iTunes store.