Gathering information from your students about their experience as learners in your class is a valuable way to assess your teaching. There are many ways of collecting feedback from your students: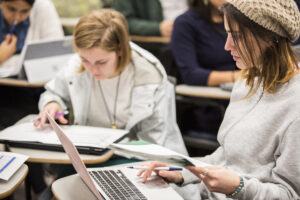 Anonymous surveys
Open-ended feedback forms
Class polls
Which method is best depends on your assessment objectives and the kind of information you need.
When assessing your classroom, consider how to allow all students to contribute, how to respond to the student feedback and how often to collect feedback. All types of assessment are based on the principle that the more you understand how students are learning, the more effective your teaching will be.
Making sense of student ratings is a complex task that can be addressed in relation to both:
Formative assessments (e.g., experimenting with changes in your teaching based on student feedback collected via surveys of classroom assessment tasks during the quarter), and
Summative assessments (e.g., interpreting numerical end-of-quarter evaluations, drawing themes from students' qualitative feedback, deciding upon actions you will take in future courses)
Ratings and other evidence of teaching may be used during departmental curriculum planning, as part of your promotion and tenure application, or as components of a teaching portfolio.
Formative assessment
During individual classes you can use Classroom Assessment Techniques (CATs) to monitor how well students are meeting learning objectives and processing course content. Some of the commonly employed CATs include:
Minute papers (ask students to provide a one to two minute written response to a question such as: "What was the most important concept you learned in class today?")
Directed paraphrasing (ask students to write in their own words a definition or translation of a major concept, idea, theory, principle or procedure)
Student generated test questions (ask students to write test or quiz questions based on material presented during class)
Mid-quarter feedback allows instructors to "check-in" with students with enough time to tweak teaching prior to the end of the quarter. Effective methods may include a whole class interview process, such as SGID or gathering written feedback from a survey or WebQ.
Summative assessment
End-of-term course evaluations are provided through the Office of Educational Assessment.  The course evaluation system (IASystem) provides several evaluation forms corresponding to different course types (lecture, lab, studio, etc.). Students rate specific aspects of each course to inform possible changes in instruction and they also provide an overall rating of the course as a whole, enabling instructors to compare student perceptions of one course to another. A set of open-ended questions allows students to elaborate on their numeric ratings and provides instructors with more in-depth feedback.