Created to promote inclusive, equitable teaching and learning environments for all members of the UW community, Theater for Change UW (TfC UW) started in 2012 as a one quarter-long learning community with twelve faculty, staff, and student participants. Experiencing tremendous growth in the last few years, TfC currently has nearly twenty active ensemble members. Ensemble members — many of whom came to TfC with little or no theater background — are committed to building skills in social change theater to spark dialogue on issues of institutional oppression and privilege.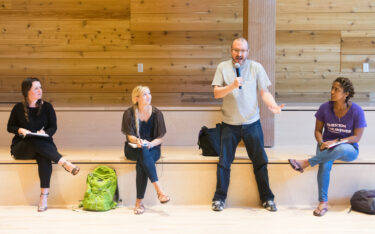 Since 2012, TfC UW has performed at events and faculty workshops on all three UW campuses and has engaged hundreds of students, faculty, staff educators, and community members in participatory social and institutional change. TfC continues to grow and strives to promote inclusive teaching and learning at the UW and beyond.
What is interactive theater?
Interactive theater disrupts the traditional divide between actors and audience, both physically and verbally. Theater of the Oppressed (T.O.), a type of interactive theater, was developed by Brazilian theatre practitioner and activist Augusto Boal and was greatly influenced by educator and philosopher Paulo Freire. T.O. uses theater as a vehicle for promoting social and institutional change; the audience becomes activated "spect-actors" and engages in collaborative dialogue, reflection and problem-solving to transform their realities.
Why interactive theater?
Have you ever witnessed or experienced an act of oppression — sometimes overt, sometimes subtle, and yet always powerful? When these situations take place, many of us do not intervene or respond, or perhaps we do something that, later on, we wished we had done differently or more effectively.
As learner-educators, we do not have many opportunities to collectively generate strategies with our peers to create more inclusive and just academic environments, nor do we often get to practice or rehearse what we do or say in challenging situations involving oppression and privilege. TfC UW uses interactive theater—with a focus on Theater of the Oppressed methods—to create collective spaces that promote engagement in difficult dialogues, critical thinking, and taking action for change. Research shows that using interactive theater as a vehicle for institutional and faculty development can increase audience awareness of key social justice issues and enhance instructors' knowledge and sense of self-efficacy as educators (Using Theatre to Stage Instructional and Organizational Transformation, Kaplan, Cook, Steiger, 2006).