April 18 2023
Information about the 2023 Teaching & Learning Symposium coming soon!
2022 Teaching and Learning Symposium
Faculty, staff, and students from all UW campuses are invited to come together at the annual Teaching & Learning Symposium. This year's theme is humanized teaching.
Keynote presentation
"Not gonna let the elevator bring us down": Strategies for Cultivating Collective Wellness
Students come to the academy wrestling with many of life's big questions: What is the key to happiness? How can I make a meaningful contribution? Today's students are struggling with these questions in a context heightened by racism, xenophobia, a global pandemic, and class and political divisions. Educators can help students explore how these issues impact our roles in a changing world. The academy tends to avoid the topics of wellness and mental health, but teaching wellness for what Thich Nhat Han refers to as our collective 'inter-being' can be a meaningful part of students' development. What kinds of support do students need to be well and to show up well in their work and lives? And what is our responsibility as educators to cultivate wellness concepts in classrooms?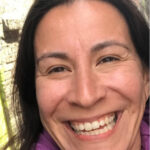 Cantu's title includes a lyric from Prince's song, "Let's Go Crazy." As Cantu explains, "'Let's Go Crazy' has helped ground me in the reality that I have a choice. Either I focus on all the negative…or I choose to see the connections, the possibilities, the good in a world that is complex. Teaching from that place has tremendous possibilities to help us re-center."
Join Ariana Cantu, lecturer in the UW School of Social Work, in exploring some learned strategies for collective wellness in our teaching practice.
Presentation sessions
Discover new teaching and learning approaches developed by UW faculty, staff, and graduate students. Explore 28 video presentations and connect with presenters online.
Goals
The UW Teaching & Learning Symposium brings UW faculty, staff, and students together to:
Build conversation and community around teaching, learning, and related research
Highlight research and practices that advance student learning
Promote reflection, innovation, and collaboration in teaching
Co-sponsors
The Symposium is hosted by the Center for Teaching and Learning and co-sponsored by:
Office of the Provost
Graduate School
UW Libraries
Undergraduate Academic Affairs
Academic Technologies
Office of Minority Affairs and Diversity
Simpson Center for the Humanities
Questions?
Please email teaching@uw.edu.